How to Store Sweaters for Relatively Organized People, Not Magazine Worthy
It may not be sweater weather yet but to prepare for the winter months it might be a good time to go through and clean your seasonal clothing. While you are at it, you may as well improve your sweater storage and add extra storage space.
There are great ideas for sweater storage systems that make them easy to see AND access. This is a simple method to provide dedicated space for sweaters. These storage solutions can be added to any existing closet space, linen closet, dresser drawer or really any existing shelf space.
It may not be sweater weather yet but it's a good time to go through and clean out last year's supply. While you are at it, you may as well improve your sweater storage. There are ways to store sweaters so that they are easy to see AND get to.
Today I'm sharing a great option for organizing sweaters using storage bins. This is a perfect solution to add organization and extra storage to a bedroom closet.
Marie Kondo Is Not For Everyone
Do you find storing t-shirts and sweaters difficult? I love Marie Kondo, but I know myself. I'm not going to go to that much trouble every time I do laundry. The packets that she wants you to fold things into are beautiful, but let's be real. It looks amazing on the day you do it, and I've tried, but it just doesn't stay that way. Am I alone?
It's important to remember that sweaters don't do well on clothes hangers, whether it be on wire hangers, wooden hangers or velvet hangers because they can stretch. A great way to store sweaters is to fold them. See the best method for folding and storing all types of sweaters for easy access.
Step 1 – Sort Sweaters According to Type
The best way to store anything in a way that makes it easy to find is to first sort by type. Sweater types include cardigan, v-neck, crew-neck and I count hoodies.
If you are a person with more than 30 sweaters you probably need a second sorting option like sweater weight. You could sort your cardigans into heavy and light weight. You could also sort into colors or materials. For example, you could sort your sweaters by cashmere, cotton or wool. You could also sort by dry clean only vs. machine washable vs delicate knits. I sorted by type because I don't have more than 20.
Step 2 – The Lazy Sweater Folding Method
When I do laundry I'm never in the mood to fold my t-shirts and sweaters into vertical packets aka Marie Kondo. I tend to do more of a standing sweep fold (sometimes on the bed, sometimes standing up). This method doesn't make the neatest looking fold, but it still counts as folded.
Folding Crew Neck and V Neck Sweaters
Crew neck and v-neck sweaters are much easier to fold. You might notice a few wrinkles, but this is real life.
For an even faster method (which I often use) try the standing fold. You might think I'm joking, but I often fold my laundry as I'm taking it out of the dryer and there is no folding table.
Folding Cardigans
Folding cardigans is different than folding crew neck sweaters. I don't like to button or zip up the sweater before I fold it. It's easier to fold cardigans quickly if you do it this way.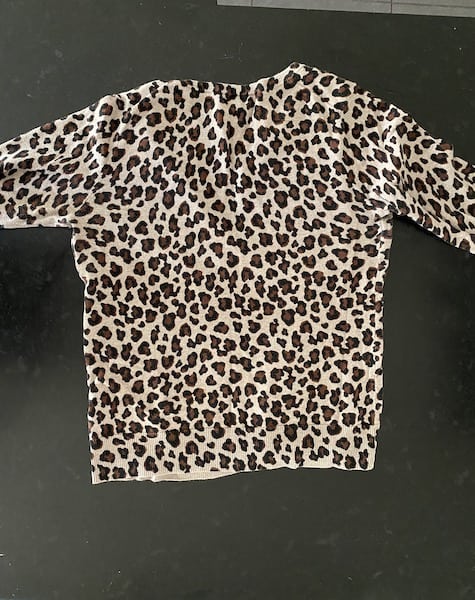 Step 3 – Best Sweater Storage Method
This sweater storage solution is a simple, but easy method and it gives any closet an organized, clean look. The most important criteria for sweater storage is visibility. If you sort by type and store your sweaters in clear cubes it keeps them much neater.
You can then just store the cubes on open shelves or even use them to make the most of your floor space. They function as simple shelf dividers without the need for any sort of construction or expensive closet organization system. You no longer have to pull out all of the sweaters on top to get to the one you want at the bottom.
Labels are your friends. You don't have to buy labels or make fancy ones. A good solution is just to print labels. I just printed these labels and taped them onto my bins with packing tape. You could also just hand label them using craft paper.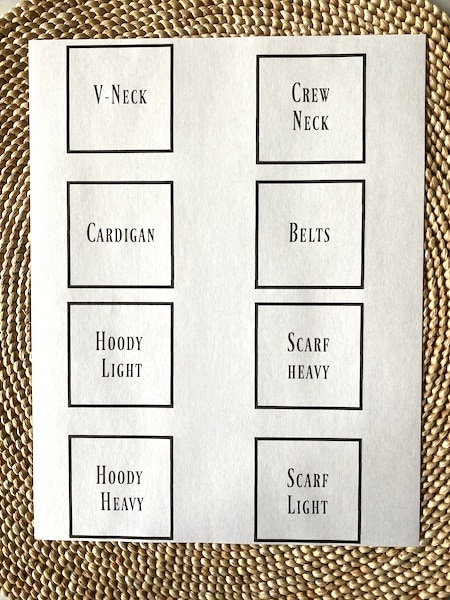 This post contains some affiliate links for your convenience. Click here to read my full disclosure policy.
I ordered 8 of these large bins on Amazon for a deal. The size is perfect because the cubes fit 4-5 sweaters. Don't try to put too many sweaters in each bin, that keeps the accessibility high. I also ordered 30 wood hangers for a bargain. These have nothing to do with sweater storage, but I decided to treat myself. I also gave the closet a good cleaning with my amazing Shark vacuum, see my full review here.
My wedding dress was hanging in the back of the closet. My sister recently unpacked hers which was professionally packed only to find out it wasn't even her dress in the sealed box.
Chas is sharing her tips, tricks and hacks for organizing a small closet.
Mary is sharing her tips for organizing linens and she's got some beautiful ones.
Niky is sharing her tips for organizing a bathroom linen closet.
Cynthia has some great ideas for organizing a small laundry area.
Kristen is sharing her ideas for how to organize a closet that serves multiple purposes.