10 Bedroom Decorating Tips
Your bedroom is one of the few rooms where you don't have to consider kids or guests. It's all about you. You want a beautiful bedroom that feels cozy and comfortable. Follow these 10 bedroom decorating tips.
1.) Add curtains AND blinds – A great way to make a room look cozier is with texture. I like curtains in a bedroom that aren't meant to provide privacy, they are only meant to look nice. Blinds or shades are easier to move and can be used to darken the room at night and make it private during the day.
2.) Get a big area rug – It is so nice to step out of bed onto a soft rug, especially in the winter. If you have wood floors and can afford a large bedroom rug it will make your space feel much more comfortable. A rug that is large enough is determined not only by the room size but also by the size of your bed. It should go under part of the bed and provide a landing on both sides. If you have a king bed, try a rug that is 9×12 or 8×10. If you have a queen bed you can get away with 8×10. Read more about how to get the right size rug for your bedroom.
3.) Choose two coordinating fabrics and add them in multiple places. Fabric is an easy way to make a bedroom feel cozy. It's good to choose more than one fabric and use each in multiple places. For example, I have window treatments made with a large floral pattern and two decorative pillows that have this fabric on them. I have navy-ticking striped fabric on two chairs and in the doors to my armoire.
4.) Get a good mattress. This doesn't make the room look cozier but it makes you sleep better and feel cozier in bed. If your mattress is more than 10 years old it might be time for a new one. There are so many great online manufacturers. We bought a purple mattress and it's very comfortable.
5.) Add bedroom lighting. You want the lighting in your bedroom to make it feel warm and inviting, not super bright. This is easier to do with bedside lamps or floor lamps vs. overhead light unless it's a chandelier. Chandeliers can add a romantic look to your bedroom or can become a focal point. I have table lamps on each nightstand and a reading lamp by my chair.
6.) Hang personal artwork – I love photos of my son, but not so much on my bedroom walls. I don't really want giant photos of my family hanging over my bed for obvious reasons. I like to use wall decor that is more peaceful or romantic.
I listen to a great podcast called Big Design Small Budget and Betsy, the designer who hosts it recommends not putting images of anyone that you wouldn't want to sleep with. So, no photos of your in-laws.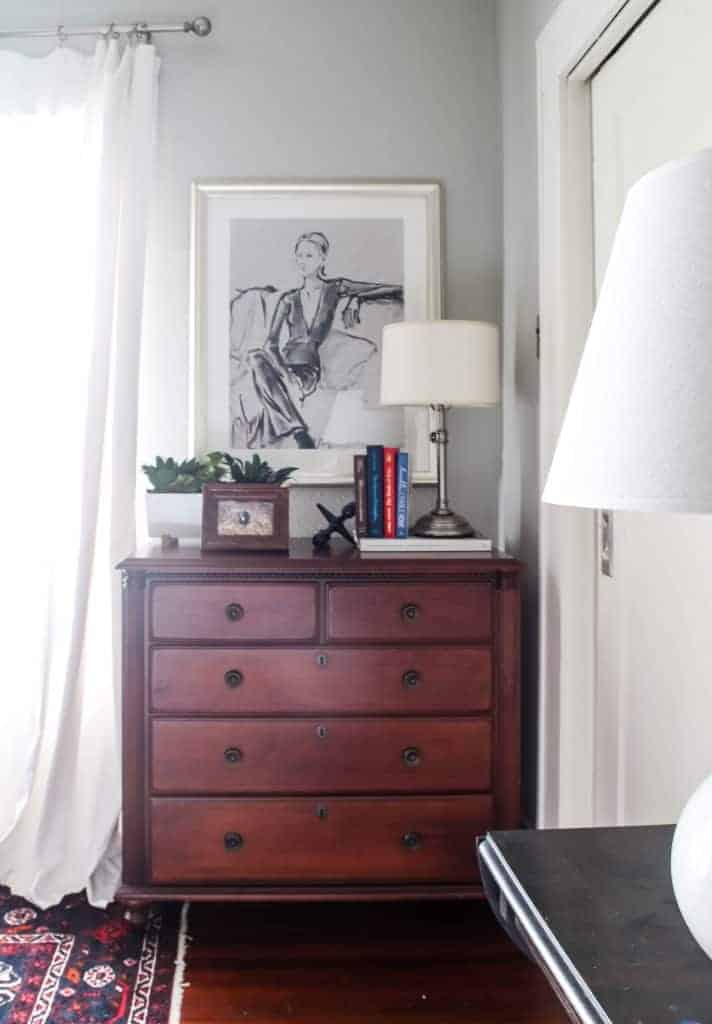 7.) Mix up the finishes of your pieces of furniture – If your bed is wood, don't use wood bedside tables, try a metal stand. Another example, if you have a padded headboard pair that with wood nightstands. There are lots of ways to add different finishes to your furniture pieces to fit your personal style. In addition to the bed and nightstands consider your dressers, mirrors, chairs, and lamps. Another example, if you have a wood nightstand pair it with a porcelain bedside lamp. Don't have every piece in your room be the same material, mix wood, metal, glass, and upholstery.
8.) Add plants. Plants add warmth and texture to every room. If your room is very dark (like mine) get a plant that can tolerate very low light. My go-to potted plants for dark spots are the snake plant and pothos. I have the windows open in this photo, but the reality is that most days I don't open the blinds.
9.) Use Neutral Paint – Painting with neutral colors is a great option because you can do so many things in the room without repainting. I have my room painted Repose Grey (by Sherwin Williams). This color really lends itself to blue tones. If you really want to use bold paint colors, I recommend not using red. Red is not a restful, soft color. You could also consider just using an accent color to bring a bold pop into your color palette.
10.) Make Or Buy A Padded Headboard – I am a huge fan of padded headboards because they are comfortable to sit up against. I like to read a good book in bed. I bought this one from Ballard Designs because it's not too expensive and I can change the cover. The upholstery fabric underneath started to look dirty so I bought a white neutral slipcover. If you have the cash, a tufted headboard is even more luxurious.
These are my top design ideas for a comfortable, cozy bedroom that is the perfect place to relax at the end of the day.
Before you go, you might also be interested in How to Whiten Sheets: 6 Non-Toxic Methods Tested.
Related posts: