How to Paint Countertops: Granite, Formica or Any Solid Surface
Kitchen countertops are one of the most expensive parts of a kitchen remodel. If you want solid surface kitchen counters, the cost is in the thousands and it has to be custom fit to your space.
What if you have a granite counter top in the home you've purchased, but you hate the color? Did you know that you can paint your granite to make it look like a new granite countertop. You can do the same with marble or any other solid surface such as Formica or old laminate countertops. It's a great option if you want to give your kitchen a fresh new look without the expense of removing the old countertops.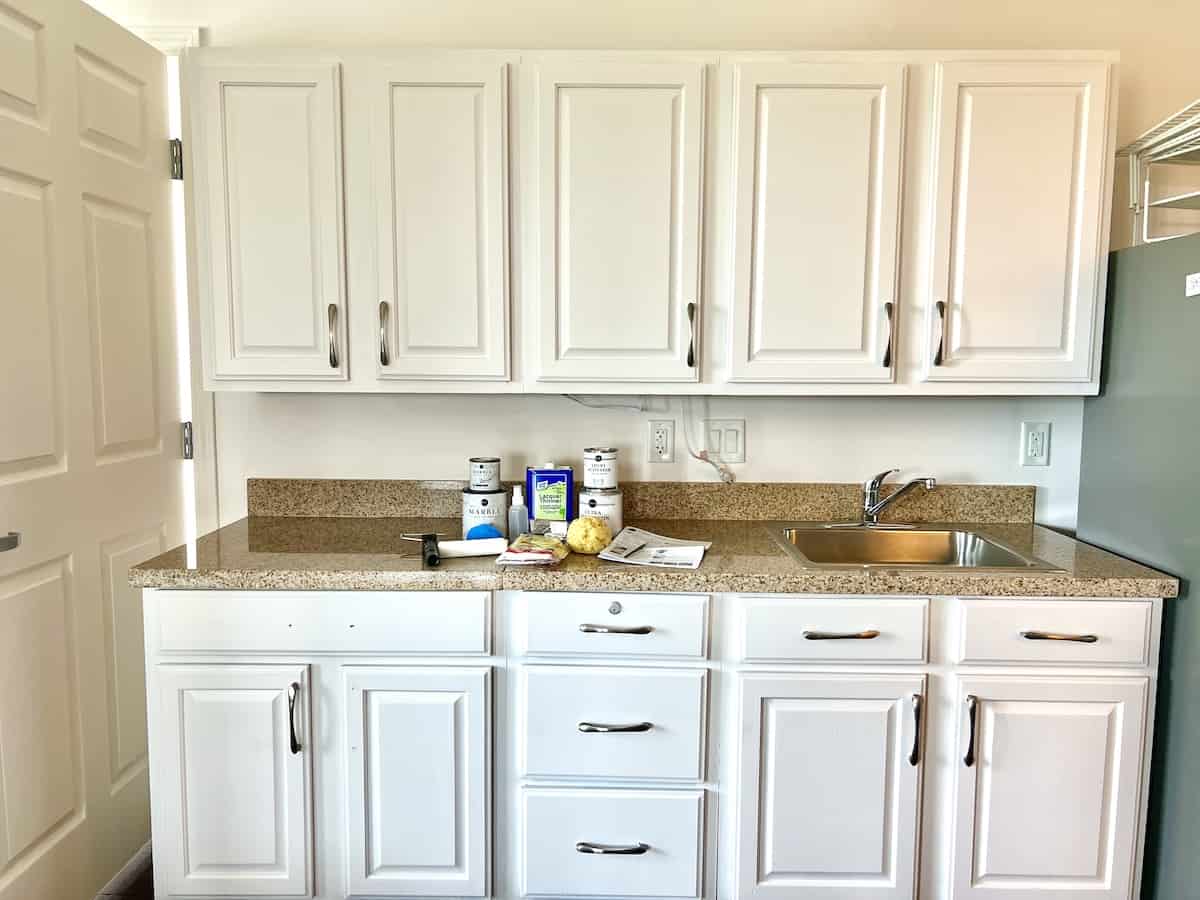 My parents moved into a new apartment and all of the granite countertops are brown. My mom really hates brown. New countertops would take a while to arrive, so I decided to try a DIY project using an epoxy solution. Thanks to Tasha at Kaleidoscope Living, I've seen how you can transform granite counters with paint.
You can use the same countertop paint kits for bathroom countertops. This is an inexpensive solution if you are on a tight budget. The paint kit is expensive, but it's still a fraction of the cost of new counters.
What Are Your Finish Choices or Epoxy Paint?
The epoxy paint kit that I used comes from the Giani Granite store. They have several different colors and finishes to choose from. My mom wanted pure white counters. The marble kit is white before the marbling, so I decided to paint her countertops with the marble kit.
This post contains some affiliate links for your convenience. Click here to read my full disclosure policy.
Here are the other color choices offered.
Note that all of these colors are speckled, just like real granite patterns. I used the white marble kit without the marbling. If you want a solid color countertop, you can use the marble kit and use a different base color. I think this would be cute for a powder room in a bright color, like red.
Supplies You'll Need to Paint Counters
I got everything except the epoxy paint kit at Home Depot, but I included Amazon links if you want just to order everything and have it delivered.
Steps to Paint Your Granite or Solid Surface Counters
Step 1 – The first step is to remove old or discolored caulk. I didn't have to do this step because there wasn't much caulk. Dirty and old caulk can detract from the end result. If your caulk needs to be replaced, take the time to get rid of the old. Take a look at this video if you want to see how to do that.
Step 2 – The next step is one of the most time-consuming tasks, but also the most important step. Tape off the edges of your counters with painter's tape. Make sure you tape around everything thoroughly. Most importantly tape the sink carefully.
Next, cover the cabinets, floors and any adjacent areas with plastic sheeting. I recommend taping them in place. This prep work is an essential part of the process even though it's the least exciting part.
Step 3 – Clean your counters with lacquer thinner. Be sure to wear plastic gloves.  I applied the lacquer with a paper towel. When you finish, wipe your counters with a damp rag to remove any leftover chemical residue.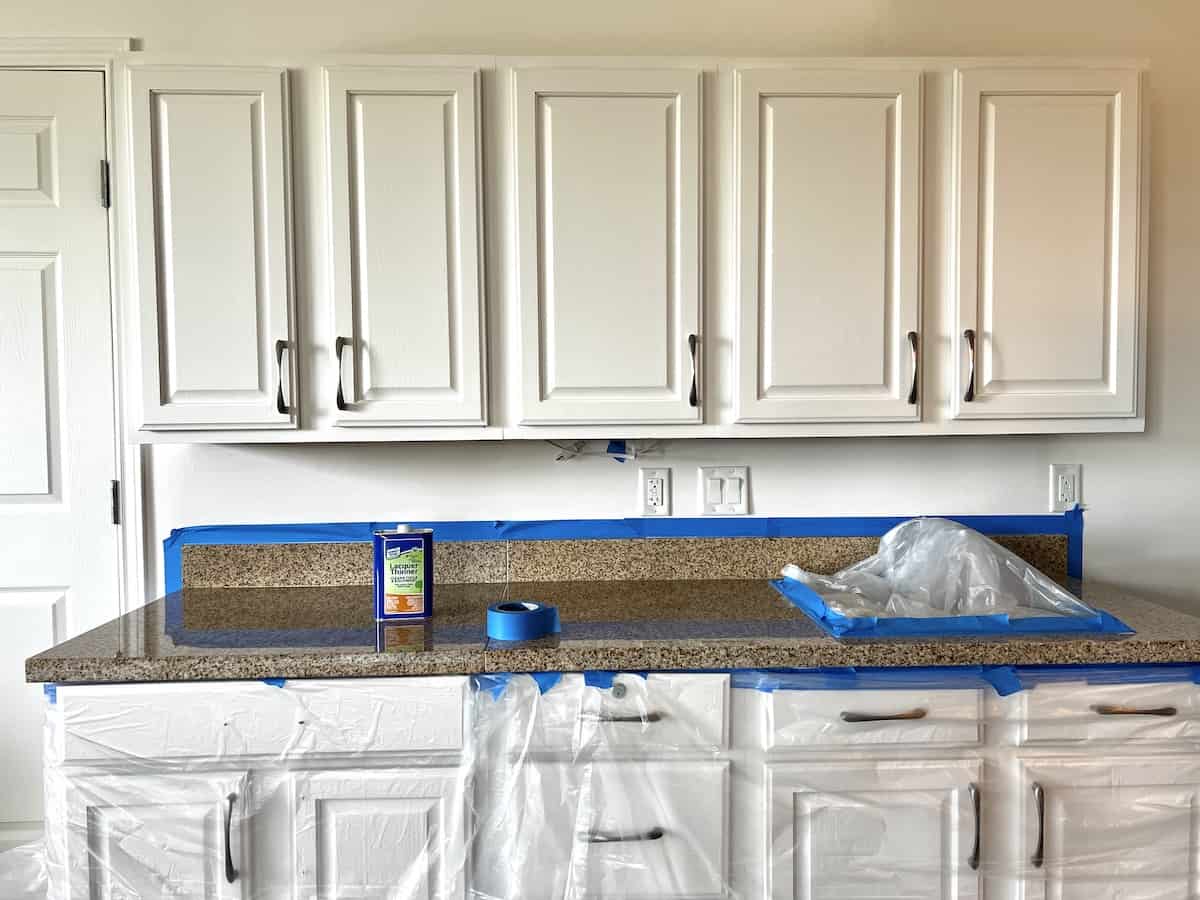 Step 4 – Paint your counters with the primer. For darker colors you will need to use several coats, I did three. Allow each coat of primer to dry before applying a second or third coat. 
I started with the edge using a foam brush and used a foam roller the larger flat surfaces. The final painting step in my kit was the marbling, which I skipped because my mom wanted white counters. Make sure to get a smooth finish by watching for any drip spots. If you have noticeable drips, use fine grit sandpaper to smooth them out and apply another coat to the entire surface.
You can see a video for how to add the marbling here if you want the veining on your counters.
Step 5 – Before you apply the epoxy, be sure to READ THE INSTRUCTIONS TWICE. The epoxy comes in two containers that have to be stirred together. The manufacturer gives precise instructions for how long to mix them together, 3.5 minutes. Set and timer and be ready to apply as soon as the time is up. 
Now for the fun part! Pour the mixed epoxy onto your countertops in 6-foot sections. Each jar of epoxy in the kit is for a 6-foot section and there are three included.
Hold the roller with the tips of your fingers so that you don't apply pressure. The epoxy is self-leveling. You aren't so much painting it on as spreading it out.
Go all the way to the edges. As you near the end of the first can, shine a light on the counters to see if you are missing any spots and fill those in by dripping more on those spots. The glossy finish make it hard to see spots that you miss. I used a flashlight.
Repeat this process with each 6-foot section. When all of the sections are complete set a timer.
Don't rest your roller on the counter, the rollers are used to guide the gooey surface around. Use a light touch.
Step 6 – The tape needs to be removed exactly one to two hours after the epoxy is spread. Remove the tape slowly to prevent anything from falling onto your counters (or from paint ripping off the wall).
Do not set anything on top of the counters for at least 48 hours. 
The counters are not fully cured for seven days. For the time period between 48 hours and seven days you can set things on the counters, but NOTHING heavy like a mixer, blender or toaster oven.
Best Tips Based On My Experience
My best tip after applying the epoxy would be to add a strip of cardboard taped to the bottom edge of your countertop. Create a small shelf for the epoxy to drip onto. The reason for this is that my counters had drips that hardened on the bottom. They aren't that noticeable, but you can feel them.
I really hate it when bloggers hide the pitfalls or fails from their projects to give you the impression that everything is easy and perfect.
Alternatively, as the last step go over the bottoms with a sponge brush to smooth out any drips. The instructions says that you should allow the epoxy to drip off the edge, but the edge isn't smooth when you do this.
I think this can be fixed with sanding, but I haven't done it yet.
How to Care For Epoxy Counters
The manufacturer of the epoxy paint states that you should ONLY clean your counters with soap and water. You aren't supposed to use bleach, acidic or abrasive cleaners. This even includes windex. You should consider if you can live with this before you use expoxy.
If you get stains on our counters you can remove them with nail polish remover.