Comprehensive List of Rug Types
Why should you care about rugs? Rugs can be one of the biggest design elements in any room. The rug above in my bedroom transformed the look and feel of the room. Change just the rug and the whole room changes. This comprehensive rug guide will help you figure out which style rug you like.
If you don't know what kind of rug you want to buy or even what kind of rug is best for your space, take a look at and see which ones catch your eye. This post is gets into the nitty-gritty of rug types and what to look for when you are buying a rug one. All rugs are not created equal.
Are struggling with what size rug to buy? If so read how to choose the right size rug. If you know what style rug you want but you don't know where to go to buy one read how to decide which rug to buy.
As I have read more about rugs in my quest to see all my options I came across lots of terms that I had never heard before. I know Oriental, but what is Kilim? Flokati? Bessarabian? Scroll down to see which rugs look like the style you like.

What is a Persian Rug?
Persian rugs typically come from Iran. Persian rugs are what you see on most blogs today that are talking about vintage rugs. See this excellent post about buying Vintage rugs. They are sold all over Etsy and Ebay and often ship directly from sellers outside the US.
This broad rug category includes many types including Tabriz, Heriz and Sultanabad. There are even more that you may never have heard about including Bijar, Hamadan, Kashan, Kashmar, Sarouk (and 10 more names that you probably have never heard of).
Many people say Persian rugs are a good investment (because authentic hand knotted rugs are expensive). I can say from my own personal experience wool rugs are very durable and last for decades. This might be TMI but I've had everything on mine from blue Gatorade to diarrhea and they clean up GREAT. See my care tips below.
What are Tabriz Rugs?
Tabriz is a city in Northwestern Iran. Tabriz rugs are tightly woven wool rugs. They are hand knotted (see below for more details on that), typically with a dense floral pattern and a medallion in the center. If you have the budget, this site has an amazing selection of Tabriz rugs that are all hand knotted. The rug in the photo below is from a site that has antique Tabriz rugs, which are also amazing.
What is a Heriz Rug?
Heriz is also a region near Tabriz, in Iran. There are Heriz knockoffs on Wayfair as well as hand knotted versions that are more authentic. These rugs are typically geometric medallian patterns and most often are found in red colors.
What is a Kazak rug?
These rug comes from Iran, Turkey and Armenia typically. They are part of a rug group called Caucasian rugs (this is the real category, you can't make that up). These are typically made of hand-woven wool and are primary colors. The first rug I bought for my new house is this style. This is a closeup of my rug.
Natural Fiber Rugs
Natural fiber rugs are most frequently found in natural colors. They include jute, sisal, seagrass, coir and abaca. They are relatively inexpensive. My favorite places to buy them are Pottery Barn, Overstock and Ballard Designs.
What is a Jute Rug?
Jute is a natural fiber. It is a vegetable fiber that is spun into long strands. It's the same fiber that is used to make burlap fabric. Jute rugs are often used in Living rooms, but less often in bedrooms because it has a course feel to it. They are very neutral and can look rustic or modern.
Jute is the softest of the natural fiber rugs, but also the least durable. Sometimes they have a secondary fabric or fiber, like this great looking one from Overstock that has denim woven in from denim.
What is a Sisal Rug?
Sisal is another natural fiber, neutral rug. Sisal is made from a sustainable cactus leaves. It is a stronger fiber than Jute. The pros of Sisal rugs are that are durable and easy to clean by vacuuming. The cons of Sisal is that it is so absorbent that it can stain and is not very soft. The example below is from Pottery Barn.
What is a Seagrass Rug?
Seagrass is another natural fiber rug, and is often the least expensive one. The color resembles natural hay. Seagrass is good for high traffic areas. It is not very soft underfoot so it's not best for bedrooms. Seagrass are often bound at the edges with canvas. Like other natural fiber rugs, seagrass can also retain moisture so be sure to dry up any spills as much as possible.
This seagrass rug has been in many places in my home. This rug is from Ballard Designs and has looked basically the same for 10+ years. The backing has deteriorated a bit but it looks great.

What is a Shirvan rug?
Shirvan is another Caucasian rug. The Caucasus mountain range connects Asia and Europe between the Black Sea and the Caspian Sea. Shirvan rugs are finely knotted wool are typically have a tribal geometric look.
What is a Flokati Rug?
Flokati rugs are Greek. They are almost always light or off-white and wool (the original were wool). They are hand woven and can have a very high pile, even up to four inches. Flokati rugs are often fairly small and used in bedrooms and have a similar look to shag rugs. Inexpensive versions of these rugs are everywhere. I found this great one at Overstock.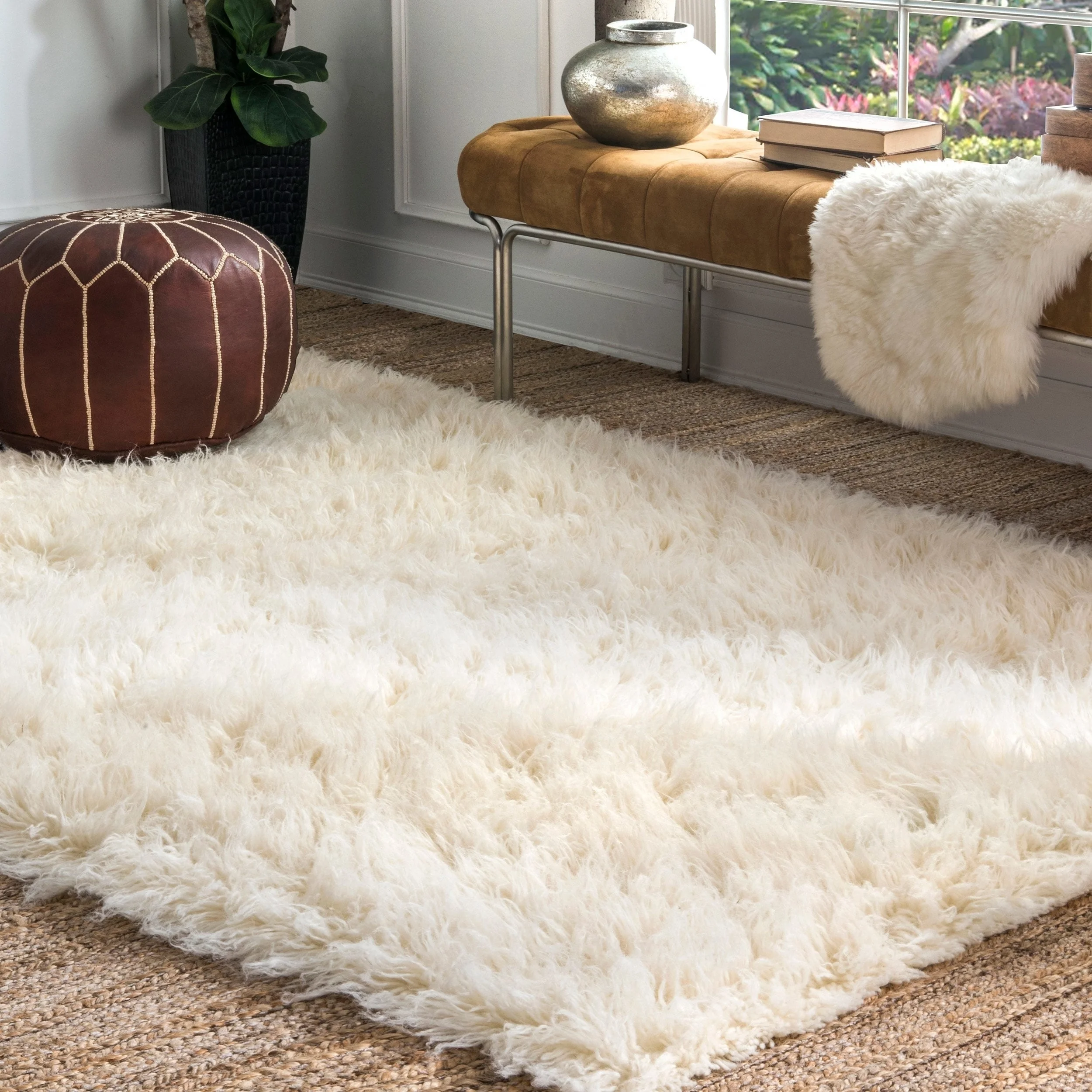 What is a Kilim Rug?
Kilim is a Turkish word for a flat tapestry weave technique. Most Kilim rugs have a geometric pattern with bold colors. You often see these in Southwest inspired rooms. There are lots of inexpensive Kilim rugs like this one from World Market. They can also have a very Boho look to them, like Emily Henderson would have on in her house.
Natural Hide Rugs
The most common hide rug is a cow hide rug, but there are other animal hides if you have a bigger budget. There are nice looking faux hide rugs if you don't want the real thing. Even Ikea has a natural hide rugs. They are typically small area rugs, for obvious reasons. The real ones are reasonably priced, like this one from Overstock.com.
How to Care for Cowhide Rug
The first thing you might be wondering about a hide rug is how to clean it. The best way to clean them is with natural soap and water. Most of the time this won't even be necessary. Most spills can be just wiped off with a damp cloth. They are fairly low maintenance.

What are Rag Rugs
Rag rugs are typically made of cotton material and are reversible because of how they are constructed. They are soft and washable so you often see them in bathrooms and kitchens. Rag rugs are typically inexpensive. They are made from strips of cotton braided or stitched together. Annie Selkie has some beautiful ones, that are less affordable, but I like this one from Wayfair.
What Are Moroccan Rugs
As the name implies, these rugs were traditionally made in Morocco by Berber tribes. They tend to have tribal, geometric patterns and most are flat weave wool rugs. There is a great guide to buying Moroccan Rugs that explains all of the different tribal patterns. The one in this picture is from Overstock and comes in many different colors.
What is a Serapi Rug?
Serapi rugs are Heriz rugs that were made before 1900. See the Heriz rugs above. Serapi is a trade-name given to higher quality Heriz rugs.
What is Savonnerie rug
These are the rugs that are associated with French royalty . The original versions of these rugs are hand made on an upright loom. These rugs were originally made based on a color painted pattern. They are very fine looking, just like what you see in the Louvre. You can find rugs like this one for sale on Wayfair, but they are really pricy.
What does Bessarabian mean?
Believe it or not, this is a place near the Black Sea. It has been part of Romania and Ukraine. These rugs are woven and have no pile. The are floral and are very elegant. These rugs are a mix of French and Oriental styles. In my search I didn't find any inexpensive knock offs of these, so they tend to be quite expensive. I found this beautiful antique at nazmiyalantiquerugs.com.
What does Aubusson mean?
This rug type can about in the 17th century and they are a type of flat weave. The rugs are often very ornate, feminine and often floral with architectural elements. They tend to be lighter colors look like French Tapestry. The original ones were made from wool. This is a budget friendly example from Overstock.

Outdoor Rugs
Recently there has been a shift to putting rugs on patios and in outdoor spaces. These rugs have special durability requirements over and above what is required inside. Many synthetic rugs are available and the manufacturers have become so good at making them look like their more expensive counterparts that they are used indoors too.
Wayfair and Overstock have huge selections. These rugs can literally be hosed off, but they often don't last more than a few years.
Types of Rug Construction
There are many different types of wool rugs which are differentiated by how they are constructed. The reason I love wool rugs is because they are soft, durable and they don't stain easily. Wool resists dirt. Wool types include: Hand knotted wool rugs, Hand tufted wool rugs, hand loomed wool rugs and machine loomed wool rugs.
What Is a Hand Knotted Wool Rug?
Hand knotted wool rugs are made by knotting individual strings onto a loom. As the title suggest these can be pricy because they require lots of labor. There are two ways to tell if a rug is hand knotted, look at the fringe and at the back. The fringe will be part of the rug and not sewn to the rug. The wool strings are knotted onto the fringe. The back will look like a mirror image of the front.
This is my hand knotted Persian Kazak rug from above.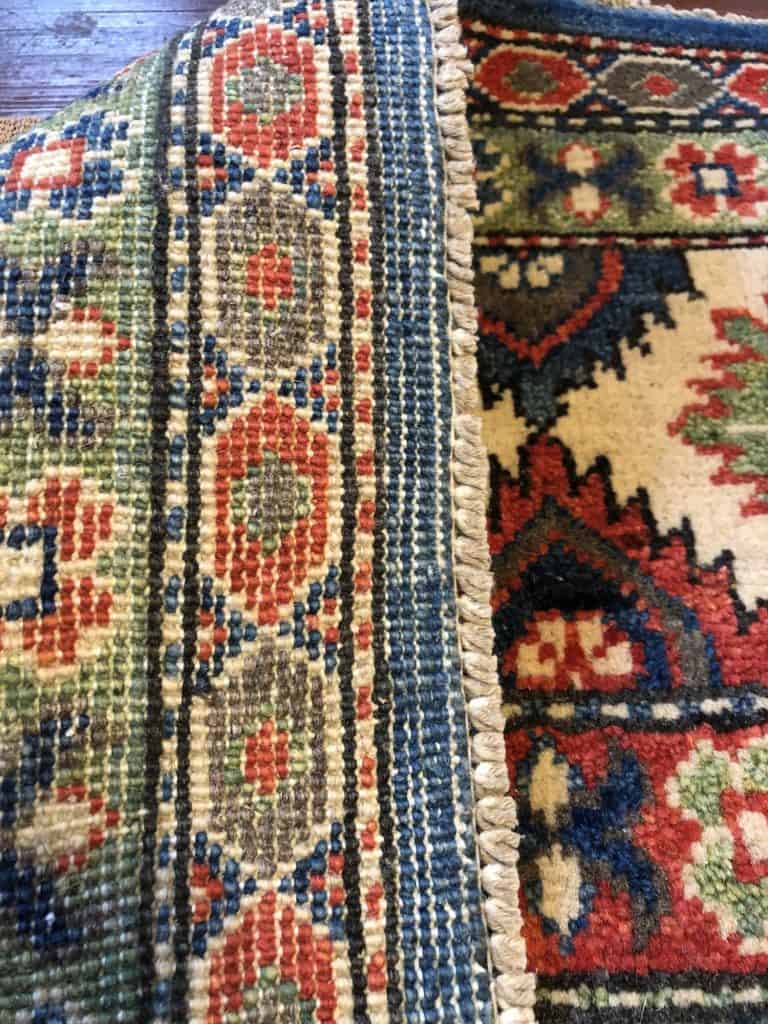 What Is a Hand Tufted Wool Rug?
Tufted wool rugs are made with a tufting gun, which looks like a drill. It can be done much faster. The fringe on a hand tufted rug is sewn on. The back of a hand tufted rug will be covered with canvas. They tend to be thicker (0.5″ pile shown here). Here is what a Moroccan hand tufted rug looks like, this one is from Overstock which is shown above from the top.

What Is a Hand Loomed Rug
Hand loomed rugs can be made in a fraction of the time that it takes to make a hand knotted rug. you can spot a hand loomed rug if all of the edges look the same (and if there is fringe, it is glued on). Hand loomed rugs can stretch apart in spots. Individual strings can also be pulled out of hand loomed rugs. These qualities make hand loomed rugs less desirable.
How To Determine the Quality of a Rug
One way that the experts determine the quality of a rug is 1.) to look at the construction and 2.) look at knots per inch. If a rug is hand knotted vs machine knotted or tufted, it will be more expensive. Similarly, if you can see the knots on the back (which is the tell of a hand knotted rug), the more knots per inch, the better quality the rug. Tufted and machine made rugs typically have a backing which makes seeing the knots impossible.
There are some rooms that it's better to spend on a quality rug and some rooms where it's better to save. Click here gor more information on where to splurge vs. save on rugs.
Basic Rug Care
Caring for your rug depends on what type of rug you purchase.
Caring for Cotton Rugs
Most cotton rugs can be washed in cold water if they are small enough to fit in your washing machine. This is why they can make good rugs for bathrooms and kitchens. I recommend reading the manufacturer's care instructions. I wash and dry my cotton rugs regularly out of necessity.
Caring for Wool Rugs
Wool rugs tend to resist dirt. That is why you see antique rugs that still look amazing. I recommend cleaning with vacuum. If are spills that are more difficult to get out (like the Gatorade I mentioned above), first blot out all the liquid you can. Then you can use a hand held spot cleaner like this one.
What is your favorite type of rugs? Let me know in the comments. Or, if I left a rug off the list, please let me know.