How To Choose A Vent Hood For Your Kitchen
Are you remodeling a kitchen? If so, getting a new range hood for your oven will be something on your list of things to pick out.
When you remodel a kitchen or add an island to your kitchen there are SO many choices to make that it can be overwhelming. Check out my kitchen remodeling checklist for a complete list of things to consider.
A range hood (or vent hood) might be low on your list of things to research. Do you know you need an island vent hood but don't know how to choose the right one? You're in luck. Below is a step by step guide to choosing the best range hood. You'll learn why you need a ventilation hood, how to choose the right range hood size, how powerful it needs to be and more.
What is the purpose of a Range hood?
The reason that you need a vent hood in your kitchen is two-fold. If you cook a lot, the range hood gets rid of unwanted odors so your kitchen doesn't smell like whatever you just cooked. It acts much like an exhaust fan in a bathroom, sucking out smells and unpleasant odors.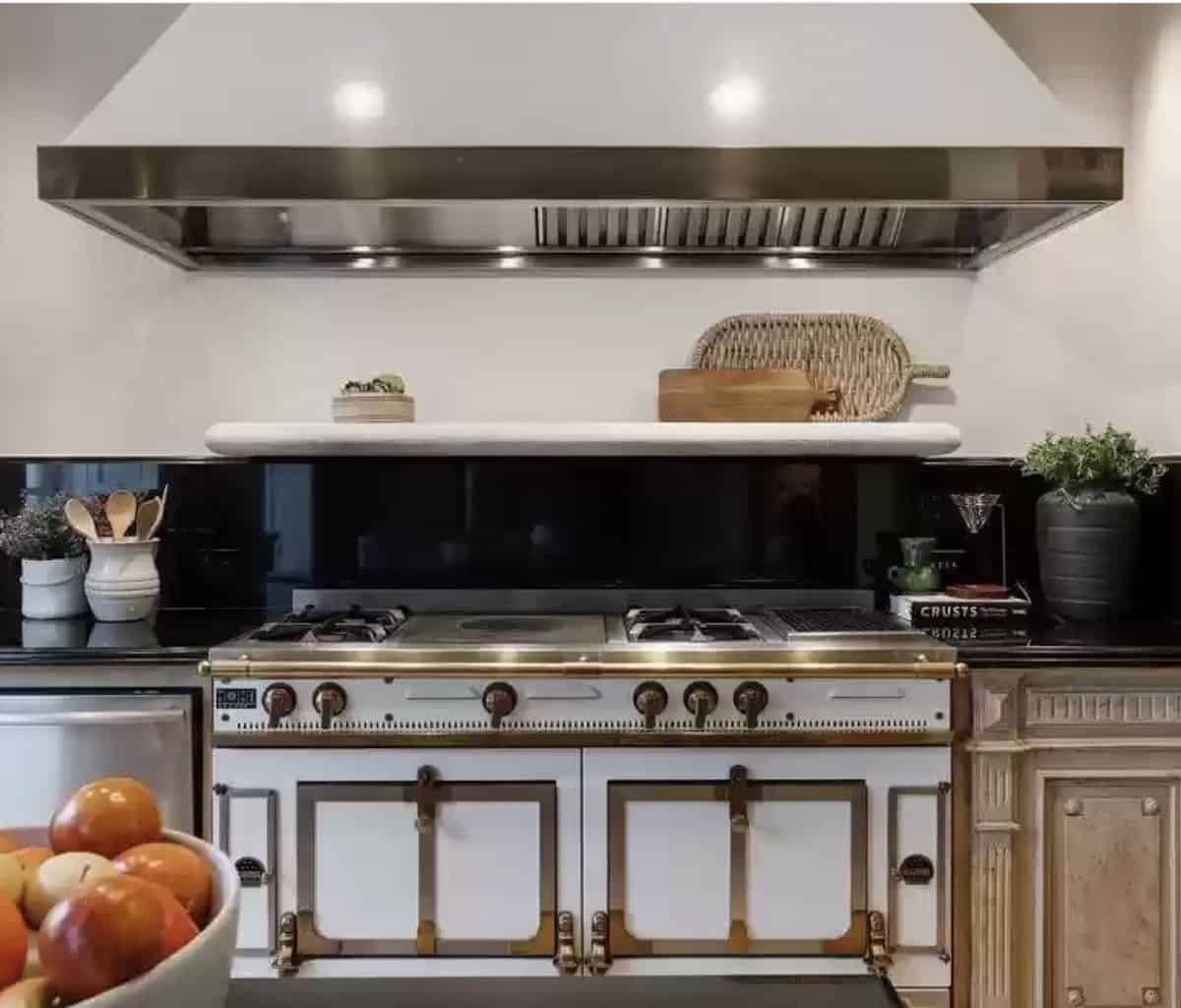 Vent hoods really help if you happen to generate a lot of smoke in your kitchen, from searing meat or burning something (does anyone else do that?). A quality range hood can suck up the smoke quickly.
Second, range hoods also suck up grease and moisture that rise up as you are cooking. Sounds gross, but that grease has to go somewhere.
If you are remodeling you should check with your local building codes to see if a vent is required, or ask your contractor. Most cities don't require you to have a range hood above the oven, but I wouldn't want to be without one.
What Size Should a Vent Hood cover Be?
If you are buying a new vent hood for your kitchen there are some guidelines for how large it should be so you know you are getting the right size. The size depends on your kitchen layout and whether you have an island cooktop or your stove is on an interior wall or exterior wall. It also depends on the width of your range.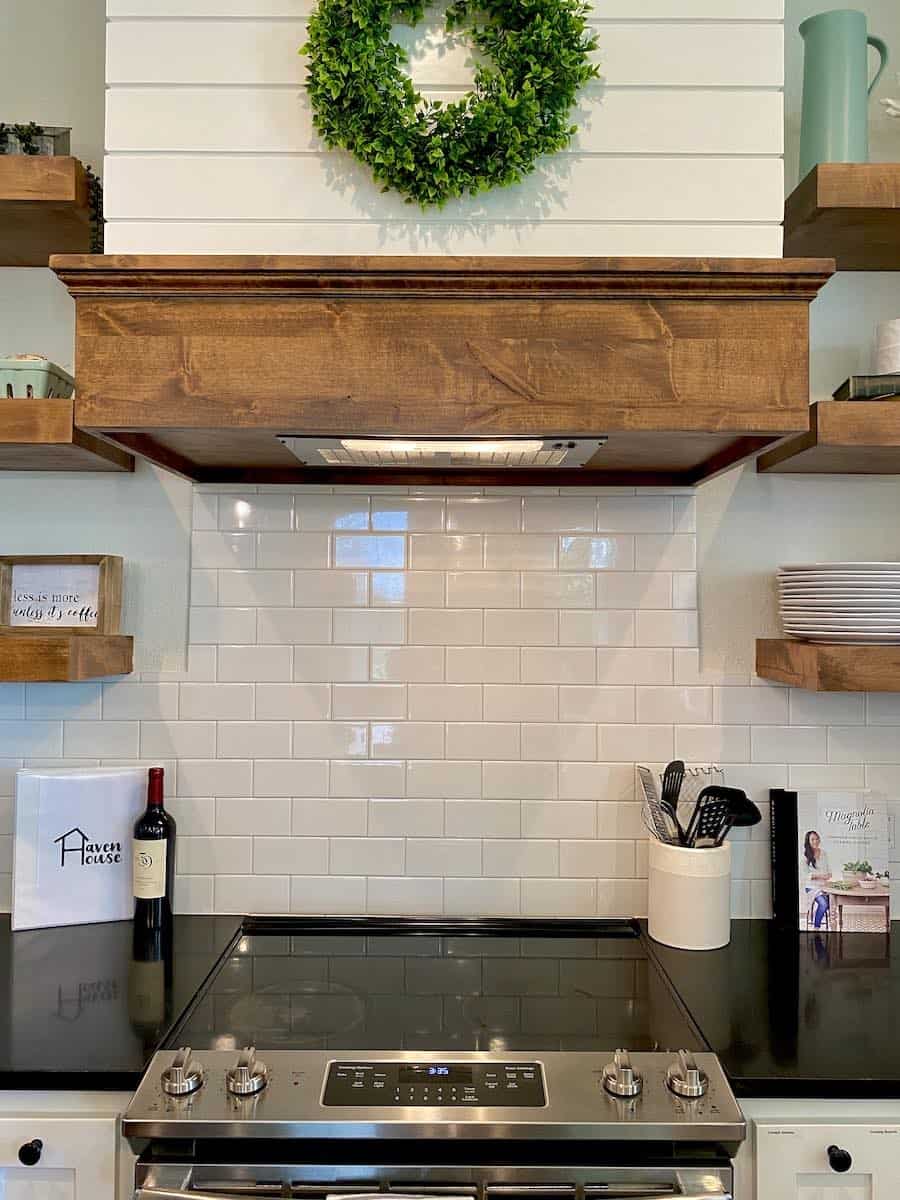 As a rule of thumb you want your range hood to be at least as wide as your range or cooktop. With that said, they come in pretty standard sizes. Most range hoods come in 30 inch and 36 inch widths. Most ranges come in 30 inch and 36 inch sizes.
If you have a 36 inch range, you need at LEAST a 36 inch vent hood. If you have a 30 inch oven you can use a 30 inch vent hood. Get the size that is at least as large as your range.
How High Should Range Hood Be?
As a general rule, if you have a gas cooktop or gas stove, your vent hood should be 24 to 30 inches from the cooktop to the bottom of the range hood. If you have an electric range, it should be a bit lower, 20 to 24 inches. It is a good idea to check the manual that goes with your oven for guidlines, so check there to confirm.
Despite this guidance there are a few other important considerations. First, is the height of the cook (probably you). You don't want to be banging your head against the vent. It might not be as effective, but your comfort is worth something.
Second, if the hood is over a kitchen island, you should consider whether it will be a visual barrier to people in the kitchen. Vents that are above an island should be above eye level.
These are not small appliances and they can look very large in an open kitchen. The best way to determine how it will affect your site line is to hang something from your ceiling before you hang the vent, even if it's a piece of cardboard.
How Strong Should My Vent Hood Be?
One of the more technical things to consider is the power of your range hood. You want to make sure your vent hood has enough power to provide proper ventilation and improve your indoor air quality. This is measured in a unit called CFM which stands for cubic feet per minute. The more powerful your range hood, the farther it can be from the top of your oven. A pretty standard range hood has a CFM of 400.
If you have a high powered range you need a vent hood with a higher CFM. For example if you are installing a pro-style range like a Wolf or a Viking you're going to need a more powerful vent.
The industry standard is a minimum rate of 1 CFM of ventilation per 100 BTUs. That's a lot of letters. An everyday gas range typically has burners ranging from 5,000 to 18,000 BTUs each. A pro style range may have a burner that goes up to 25,000 BTUs. You add the individual burners together to get the total BTUs.
Vent Hood Styles
Choosing the right kitchen hood can be an important design choice. There are lots of different vent hood styles that vary depending on where they go in your kitchen. For the sake of comparison, I'm showing prices for the 30″ size below.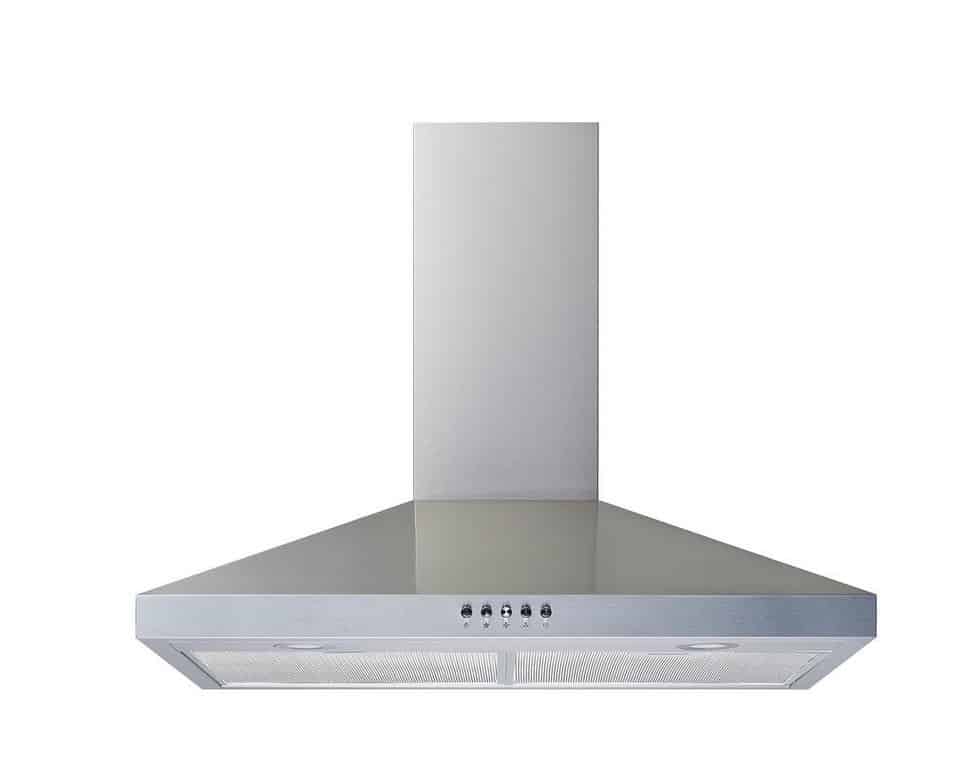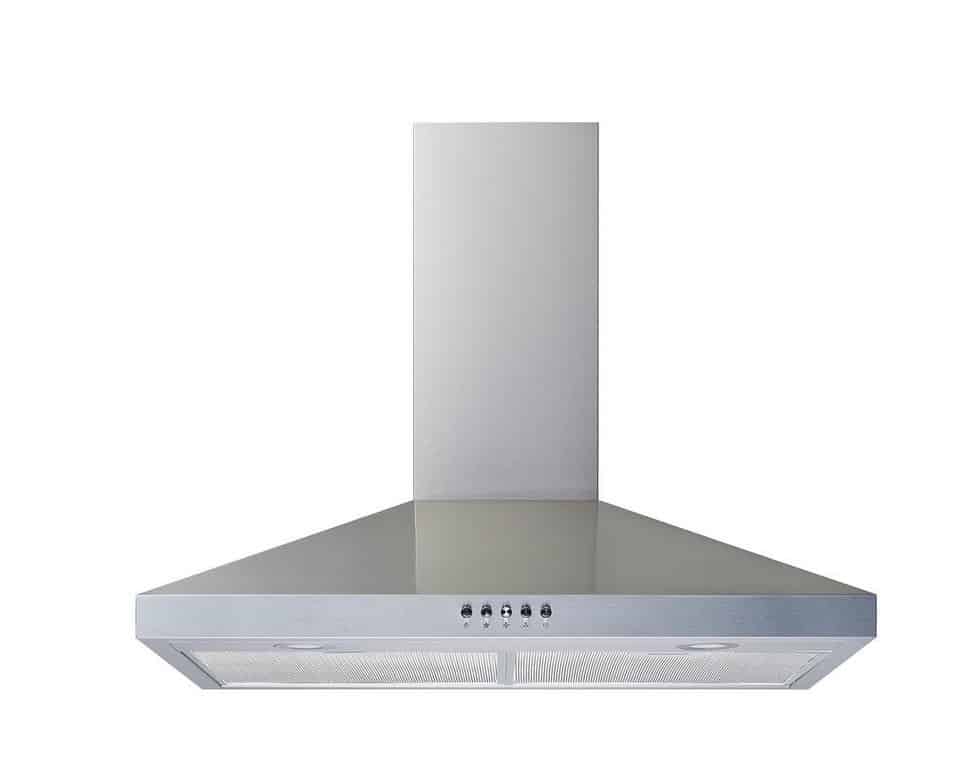 Wall mount range hoods- This is the most common type of vent hood. The prices on these can be as low as $139 from Home Depot or as high as several thousand.
Island range hoods – These are more expensive. This island mount range hood from Home Depot is $377.
Cabinet range hoods – These mount to the bottom of an existing cabinet. They are not the type that are going in most newly remodeled kitchens, but if you are replacing an old one they are very inexpensive. This under cabin range hood from Home Depot is only $66
Microwave range hoods- If you have a microwave directly over your range, you can use this type of vent, but these are not ideal in terms of best performance. If you have limited space, they can be a good option.
Custom range hoods – Thanks to Joanna Gaines vent hoods have become integral in kitchen design. There are a lot of people who are building their own range hood covers to go around the basic mechanical vent. Here's a really cool farmhouse DIY vent hood that is built around a standard "insert range hood". They sell the inserts like this one at Home Depot and they are the mechanical portion of the range hood. Keep reading for suggestions on where to buy a custom cover for your range vent.
Range Hoods on Etsy
Do you want to make your vent hood a focal point but you aren't into DIY? Etsy is your best friend. There are craftsmen on Etsy that will make a custom vent hood to fit your space. Take a look at these, they aren't cheap but they can really up the WOW factor in your kitchen.
This vent hood can be painted to match your cabinets or to make a statement. The seller EMBerstore has 5 Stars.
This shiplap vent hood is also custom made by BlueFigArtisan, another 5 star seller.
This is another range hood made by BlueFigArtisan, which can even be stained.
You have to pay to ship these and it's not inexpensive, but if you want to make your kitchen look custom it can be worth the investment.
How to Clean a Range Hood
There's a dirty secret about range hoods that I didn't know until I saw the evidence myself. They collect that grease that is being sucked up. You might be thinking, duh.. But when I moved into my house I started noticing this disgusting brown sludge dripping from my vent.
This was a newsflash for me. You have to clean the filter system or replace them. If you choose a vent hood with stainless filters you can pop them in the dishwasher to clean them. You might also need to take a wet cloth around the inside ledge (this is where most of the grease collects in mine). Be prepared to be grossed out. See my vent cleaning guide.
If you don't clean them out, it can be a fire hazard and also pretty gross when they start oozing grease.
Can I Vent My Stove Under the House?
My last house had a stove that vented underneath the house. This is an option if you live in a pier and beam house (which means there is some place for the air to go).
In my experience with both types of vent hoods, the over the stove or oven variety works much better. You should only vent down if you can't afford to put in an overhead vent or you have an island and you don't want the visual barrier of a vent hood.
Range Hoods – A necessary Appliance
In summary, range hoods are a necessary part of the cooking process and an essential part of you ventilation system. They might not be the most exciting purchase you will make, but this should help you learn a few basics about this appliance. Please reach out if you have more questions that I didn't answer in the comments.