How to paint a checkerboard floor: this one takes time

Our bathroom at work has a grey concrete painted floor and it's in pretty rough shape. I considered a few options but landed on painting a checkerboard floor.
It's a DIY project that I've always wanted to try. I really love the look of a checkerboard floor. Since the surrounding floors are grey, I decided to do a grey and black classic checkerboard pattern.
This is not a DIY that can be done in one day. If you are doing a bathroom, make sure you have another one. It is a multi-day process. I like the end result, but I won't lie, this takes a while and it was a lot of work.
I saved so much money by not replacing the floor that I was able to do a few other updates. Removing flooring is expensive and messy. I purchased a new faucet, mirror, and light fixture. I also added real baseboards vs rubber ones.
Supplies For Painting Checkerboard Floor
This post contains some affiliate links for your convenience. Click here to read my full disclosure policy.
If you are painting a surface other than concrete you will still want to use a paint that is meant for floors AND seal it with something durable. This unfortunately means something that is NOT water-based and is really smelly.
Steps to Paint Checkerboard Floor
The first thing to do is remove or tape the wall or baseboards with painter's tape to protect the walls or trim. Our bathroom had rubber baseboards so I ripped them out. Pro-tip, if you are removing moldings of any kind, be sure to score the paint at the top before you pull them off to avoid damaging the paint on the wall.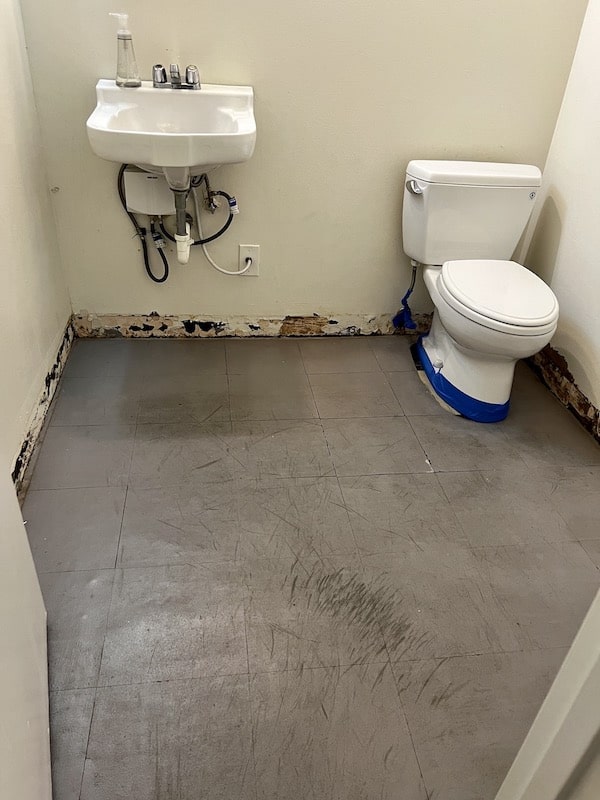 The next step to painting any floor is to clean it and let it dry. If it's a floor that is greasy use a cleaner that is a degreaser like Krud Kutter.
Paint the base coat over the entire floor and allow it to dry. It's easier if the base coat is the lighter color of your checkerboard. You can paint the second color over the lighter color. Allow the base color to dry. When you are painting ANY floor you want to start at the furthest point in the room and paint your way toward the door. Don't paint yourself into a corner.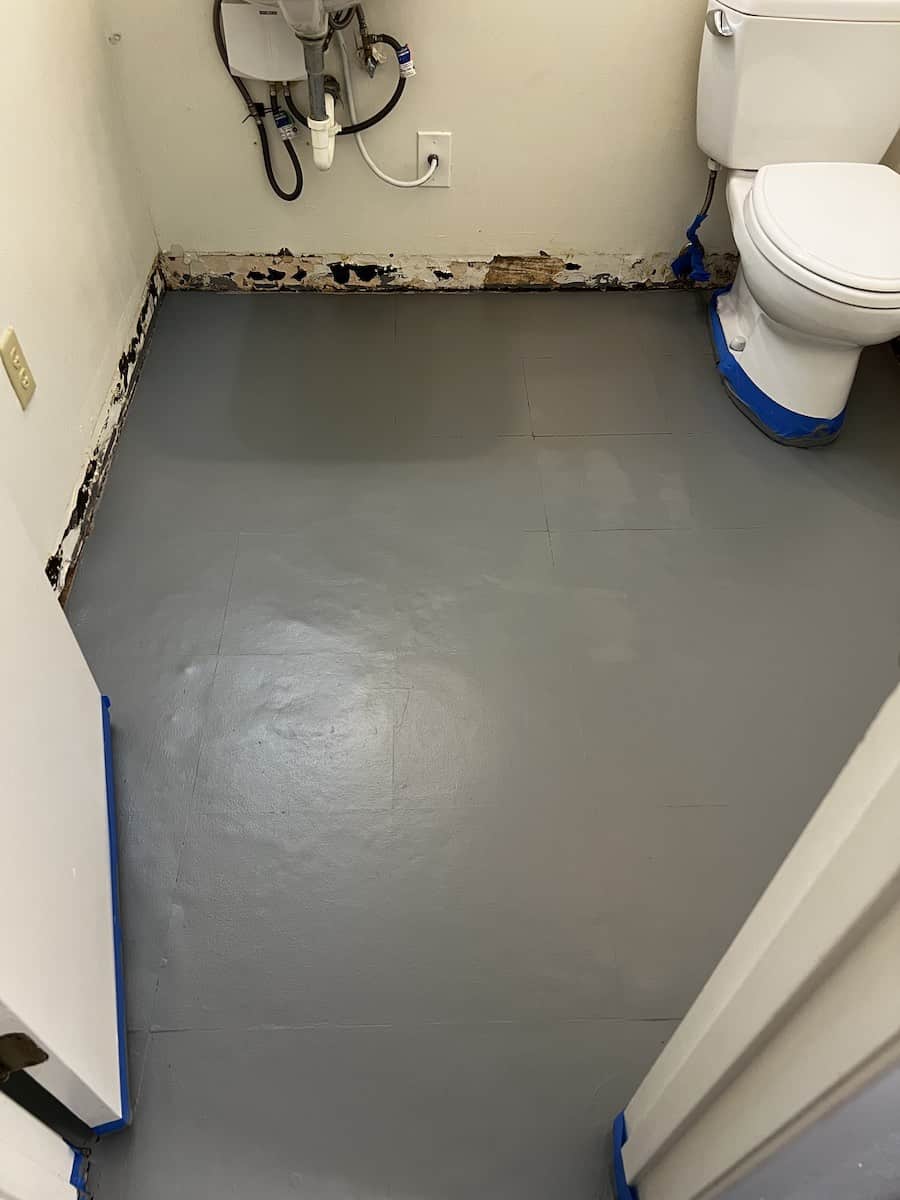 Determine if you want your checkers to be on a diagonal or straight and how large you want each checker to be. Cut a cardboard square to the size of your checker. I used a 12″ form.
Start in one corner and work backward. Place the tile down, trace around with a pencil and use a ruler or straight edge to extend the lines a little bit to make the next square easy to place.
Use painter's tape to tape off every other square. Put the tape on the outside edge of each square you want to paint the darker color. Press the edges of the tape down with your finger to make sure the color division is clear. I tried to freehand the lines, that was a disaster so I had to paint the solid color base back over those spots and tape off the entire floor.
Paint inside the tape edge of the squares with the darker color. Don't worry about pencil marks, they can be erased or painted over.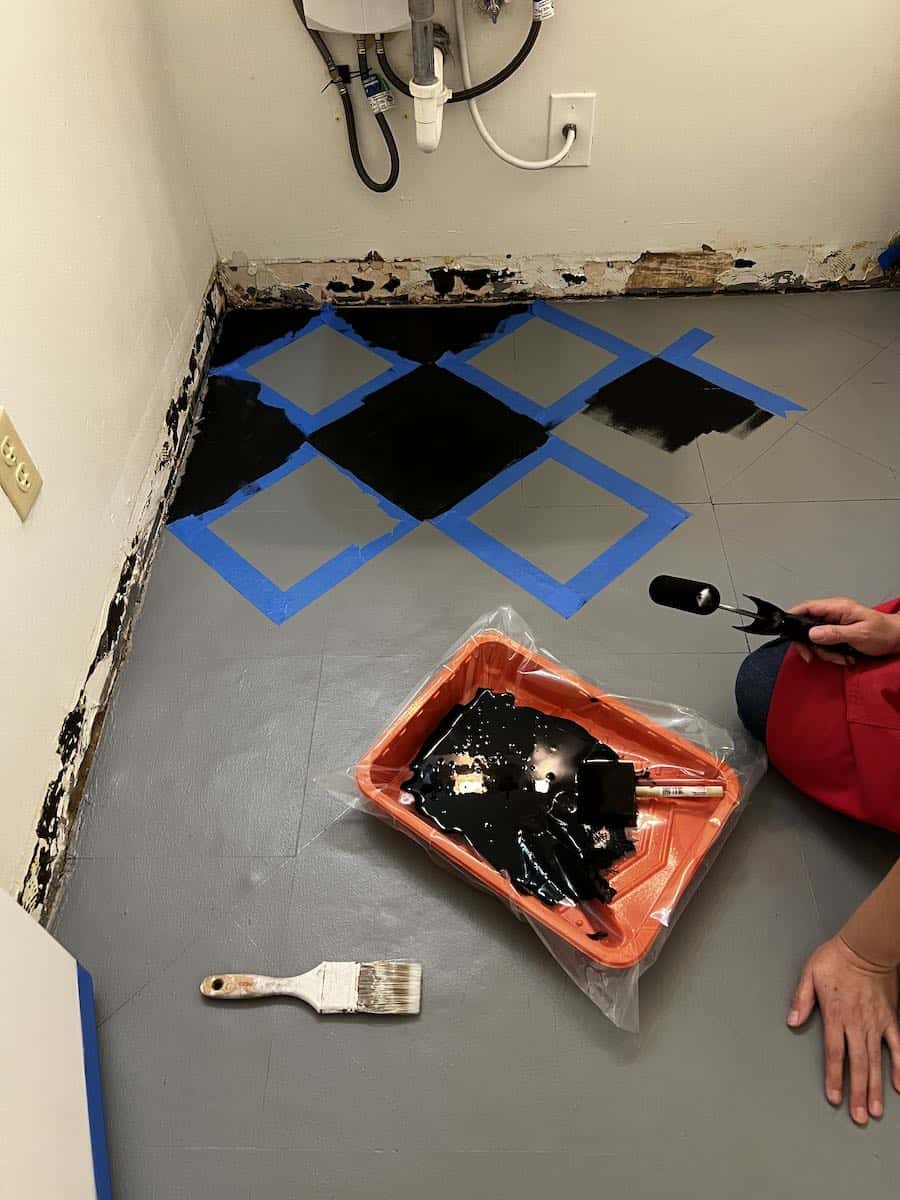 Allow the darker color to dry completely.
Seal the floor using an oil based sealer meant for outdoor projects and let the sealer dry for at least 48 hours. I walked on mine the next day and left footprints, which had to be painted over and re-sealed. Pull up the painter's tape to reveal the crisp lines (this is the most satisfying part).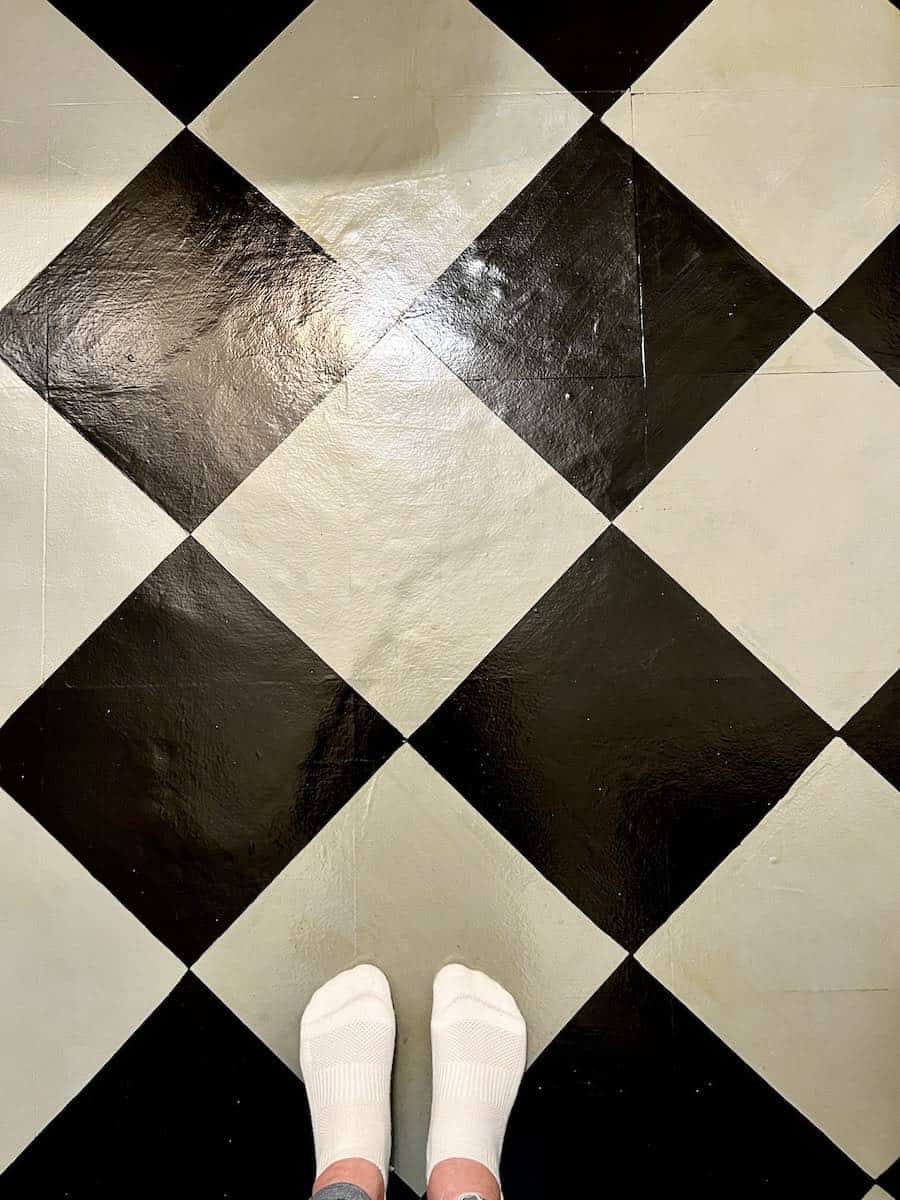 What Kind of Sealer Works Best on concrete floors?
I tried to paint the floor with a water-based sealer, but this was not enough to hide shoe prints. I had to lightly sand the shoe prints and touch up the paint and re-seal. The second time I sealed the floors with an oil-based sealer. I used the Behr oil-based Spar Urethane.
Would I do this again? No! I think it looks good, but not perfect. This is the truth of most of my DIY projects. It is a huge improvement, but it was very time-consuming. I don't think I would do it again. There's another bathroom, but I'm going to try peel and stick tile.