Farmhouse Sinks vs Apron Sinks: Which one should you choose and why?
You've probably heard both of these terms if you are remodeling your kitchen. They can even be used interchangeably. So what's the difference between farmhouse sinks and Apron-front sinks? Nothing!
A standard sink sits inside a cabinet. Apron sinks sit on top of the cabinet but are not enclosed. The front side of the sink is exposed. The best type of sink for you really depends on your personal style and your overall kitchen design.
A farmhouse style sink is a TYPE of apron sink. An apron sink is any sink style with an exposed front. The front of the sink is not inside a base cabinet, it is exposed. A farmhouse apron sink is a style of apron sink with a rustic or old-fashioned style.
Where to Find Apron Sinks On A Budget
Apron sinks can be made of a variety of materials and can fit any design style. For the most part, they have deep basins and while some have a double basin, most do not. They are an excellent choice if you want to achieve a very distinctive look. You can even find modern or stainless steel sinks with an exposed apron or a copper cottage sink. The best deals on apron sinks are usually at Wayfair, Overstock and Lowes.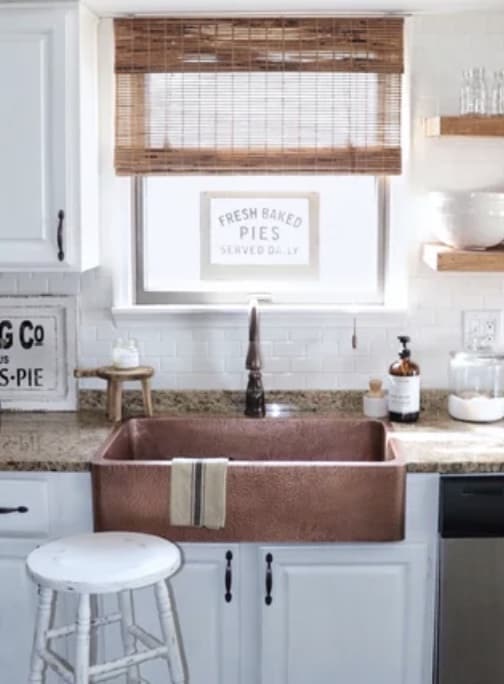 This post contains some affiliate links for your convenience. Click here to read my full disclosure policy.
Where to Find Farmhouse Kitchen Sinks On a Budget
Most people visualize a white fireclay farmhouse sink, when they think of classic farmhouse sinks. As we saw above this is just one of the different styles that are available with an apron front.
You might be surprised by my first suggestion which is ETSY. Check out this beautiful sink that is on close-out through Etsy. You can find a great deal by searching farmhouse sink on Etsy. I found the same sink for twice as much on build.com.
There are also some great bargains on Wayfair like this one, with a ridged front.
A farmhouse-style sink is something that has become very popular in recent years in new homes and remodeled kitchens and there are lots of affordable sources. Another style of farmhouse sink that you don't see as often is a wall-mount
Pros and Cons An Apron-Front-Sink
You can read more about the pros and cons of farmhouse sinks, but here are the basics.
Pros:
Most apron sinks have a deep basin, which makes them good for large pots. They are a popular choice because they give your kitchen an updated look, even though they are meant to look old.
Cons:
If you like to wash dishes in the sink, it takes a lot of water to fill up the deep sink.
If you want an apron-front sink, keep in mind it will be a single basin sink, not a double bowl sink. My mom likes to washing dishes by filling up one side with soapy water and one side with clear water. That's not possible in a farm sink.
These sinks can be hard to replace because they fit very snugly between the edges of two cabinets. They are attached with a very powerful adhesive like an undermount sink and have additional support underneath (framing inside the under-cabinet).
They have a higher price tag than a traditional sinks, whether an over mount or drop-in sink.
If you are in the market for a new kitchen sink, and you think you like these large basin sinks, don't feel like you have to stick to white. It all depends on your personal preference. There are so many types of sinks that have the same look. They aren't only in "farmhouse kitchens".