3 Tips To Determine the Right Height for Floating Kitchen Shelves
Are you thinking about hanging floating shelves in your kitchen for more storage? Open shelves are a great option to add storage space above your base cabinets if you have lots of empty space. There are two things to consider before you break out your screwdriver and level.
Where to hang them depends on a few things. The first thing to consider is what you want to store on the shelves. Do you want to store dishes, serving pieces, dry goods or decorative objects? This will help you determine the spacing of the shelves.
Second, you need to consider the location in relation to your kitchen cabinets. It's important to consider both the lower cabinets and the uppers if you have them.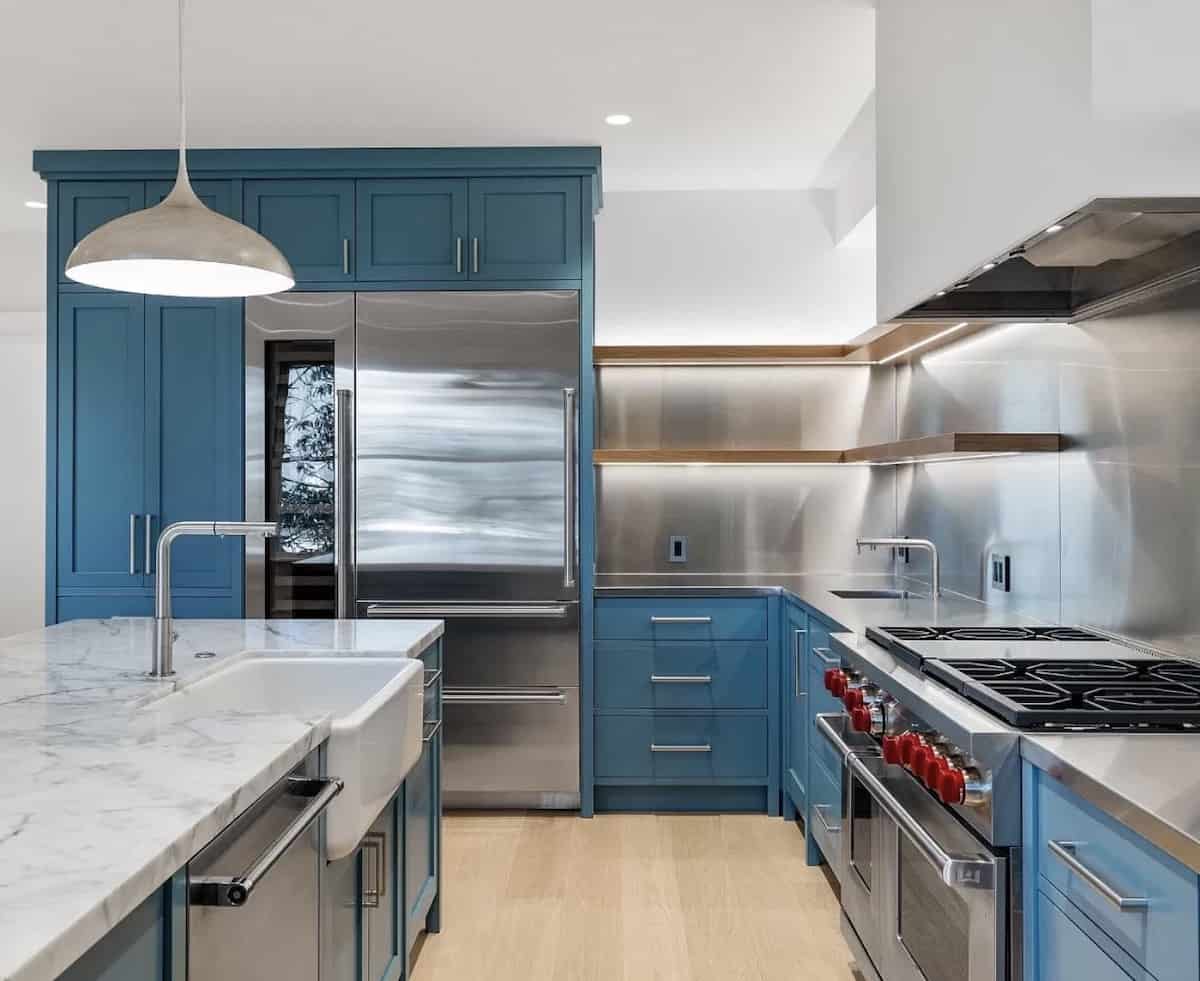 There are some great places to buy finished floating shelves and some tricks to mounting them. As always, a picture is worth a thousand words. Check out the examples I've got with two shelves and three below and it will help you decide where to place YOUR shelves.
Factor 1: How You Use Them
Before you work on hanging the first shelf, what do you want to store there? How big are the things you want to put on the shelves? This will help you to decide both the spacing and the number of shelves. These shelves will be a big part of how your kitchen looks because they are right at eye level and there are no cabinet doors to hide any mess.
If you want to store glasses and everyday dishes, these are small items. Good average spacing for these items is less than 18 inches. You can fit three shelves vs. two for dish storage. And they don't have to be as deep, 10 to 14 inches is deep enough for dishes and a few small plants.
On the other hand, if you want to store serving dishes, you need more vertical spacing between shelves.
Factor 2: Where You Place Them
If your open kitchen shelves will hang next to upper cabinets, it makes a difference. A good rule of thumb is that you want to be able to draw a visual line between the bottom of wall cabinets and the lower shelf. Here's an example of three shelves in an IKEA kitchen with upper cabinets. The shelf height starts at the bottom of the upper cabinets.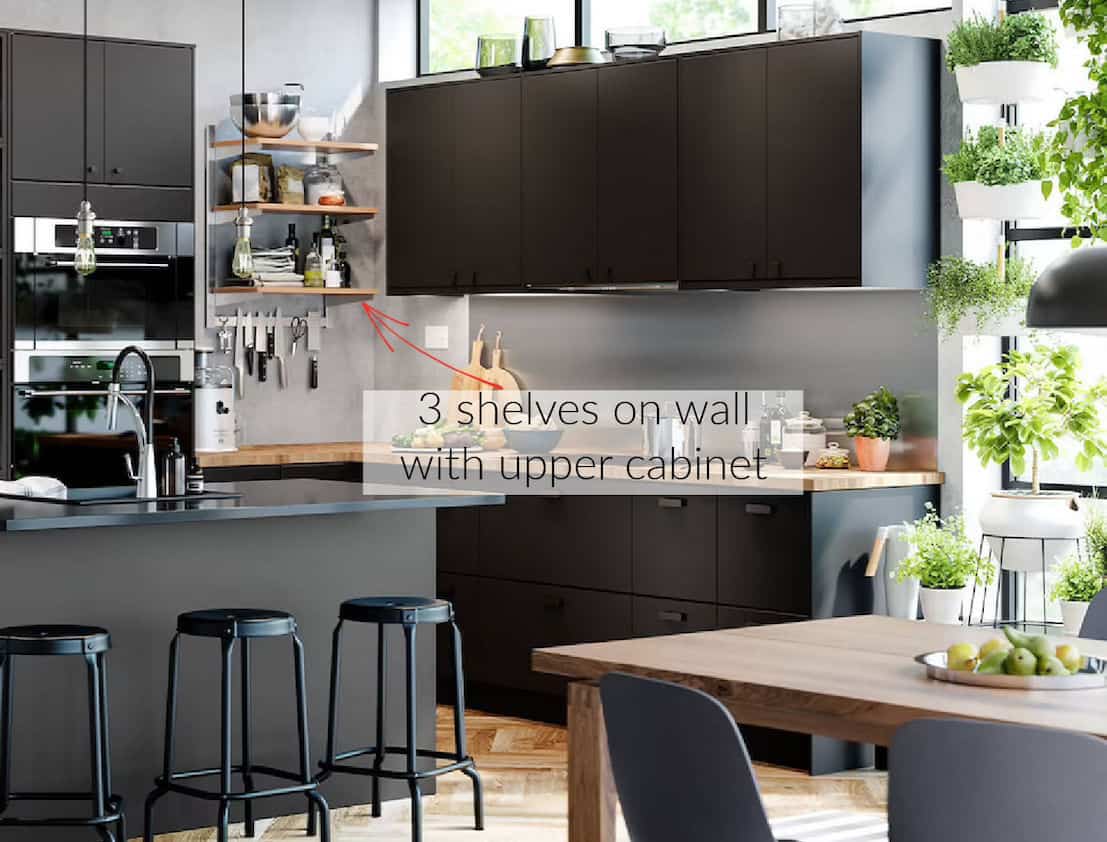 If the wall you're going to hang the shelves on doesn't have upper cabinets or a vent hood, you have more flexibility on where they go and how many there are.
The bottom shelf would be no lower than 18″ above your kitchen counter. You don't want the shelf to make your counter space feel crowded.
How Many Should You Hang?
When you start to look for inspiration you will see that most often people either hang two shelves or three in a kitchen. The ideal number for your kitchen depends on how much what you want to use them and what they will be next to.
If you have upper cabinets, and you like a more minimalist, clean look, use two shelves. Here's an example of two shelves with more space between them.
On the other hand, if there are no upper cabinets three shelves are a great way to get more storage for everyday items. Here's a great example of a Pottery Barn shelf in a kitchen with no upper cabinets. Odd numbers have more visual appeal and fit the rule of three that our eyes like to see. Here's an example of three shelves in an IKEA kitchen with upper cabinets.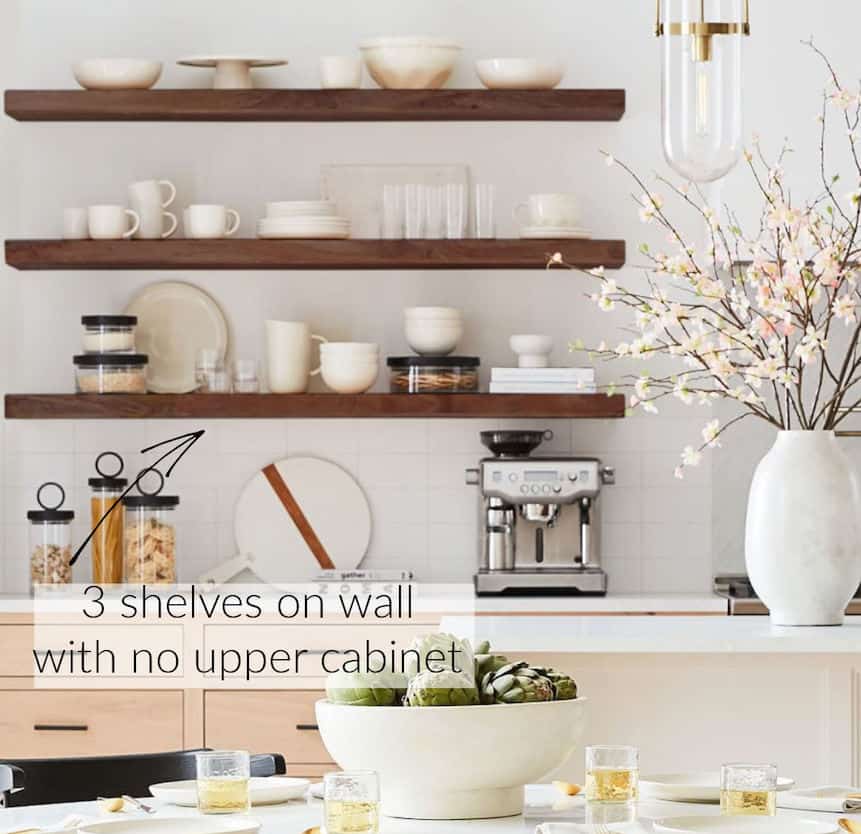 How to Hang Shelves
Be sure to follow these tips when you are hanging wall shelves.
Always hang the bottom shelf first. This serves as the anchor. Anchor the bottom shelf at the same height as a wall cabinet if it's on the same wall.
Use a stud finder and be sure to mount the shelves to studs if at all possible. How much weight do they need to hold? Everything is probably either breakable or heavy. I like to use a shelf bracket for additional support, but that depends of the type of shelf you like. Use molly bolts, drywall anchors or toggle bolts if you can't find a stud.
Use a level to be sure your shelves look flat.
If you have longer shelves or a long span with more than one shelf in a row, secure to the wall studs in several places.
Tip 3: Where to Buy Shelves at Every Price Point
I'll break these down into three prices categories.
The best bargain shelves are on Amazon and IKEA.
IKEA's 74 inch shelf comes in three colors, black, oak and white for only $30. It's only 10 inches deep, but you can fit a lot more than you think.
Amazon's choices can be overwhelming. Search by finish and length. For example, white 48-inch floating shelf. Be careful NOT to get a picture ledge, make sure the depth is at least 10 inches and preferably 12-14 inches. Welland has a large collection of shelves in various shelf sizes and finishes.
The best custom shelves are on ETSY:
Hope Springs Decor has every different shelf size and finish. They can also do custom paint colors if you want to match your kitchen cabinets or walls.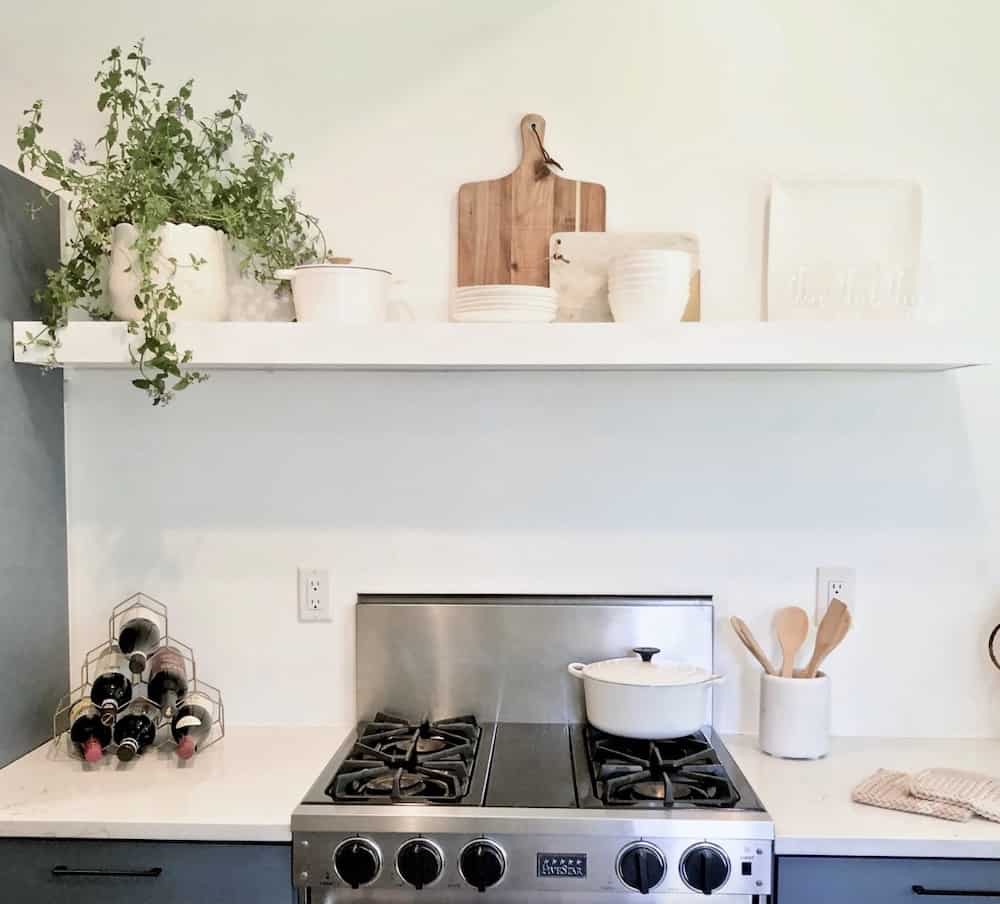 The best splurge-worthy shelves:
Pottery barn shelves are my favorite if you want a thick shelf. These are not hardwood solids, but they look like they are. They come in walnut, oak and white in four different lengths.
Ballard has a collection of shelves with different brackets that are not as thick. They come in "barnwood" and white, in 30, 40 and 50 inch lengths.
This post contains some affiliate links for your convenience, click to read my full disclosure.
If you prefer to DIY your floating shelves, here's the tutorial I used in my dining room. If you want to see an example from my B&B of the floating shelves I used to store ALL my dishes, here's a blast from the past.