Folding Table Makeover: Use it indoors or as a picnic table
Are you interested in transforming a folding table into a dining table? Or would you like a wood picnic table that can be stored flat? This furniture makeover isn't the thrift store variety, it's taking a very basic folding table and giving it a completely new look.
I hate the way folding tables look, but with this tutorial, you can convert your plastic table into a wood dining table worthy of entertaining inside. Or you can easily move it outdoors when the weather is nice for a party. If you don't have the space to keep it up all the time you can easily store the entire table in the garage or under your bed.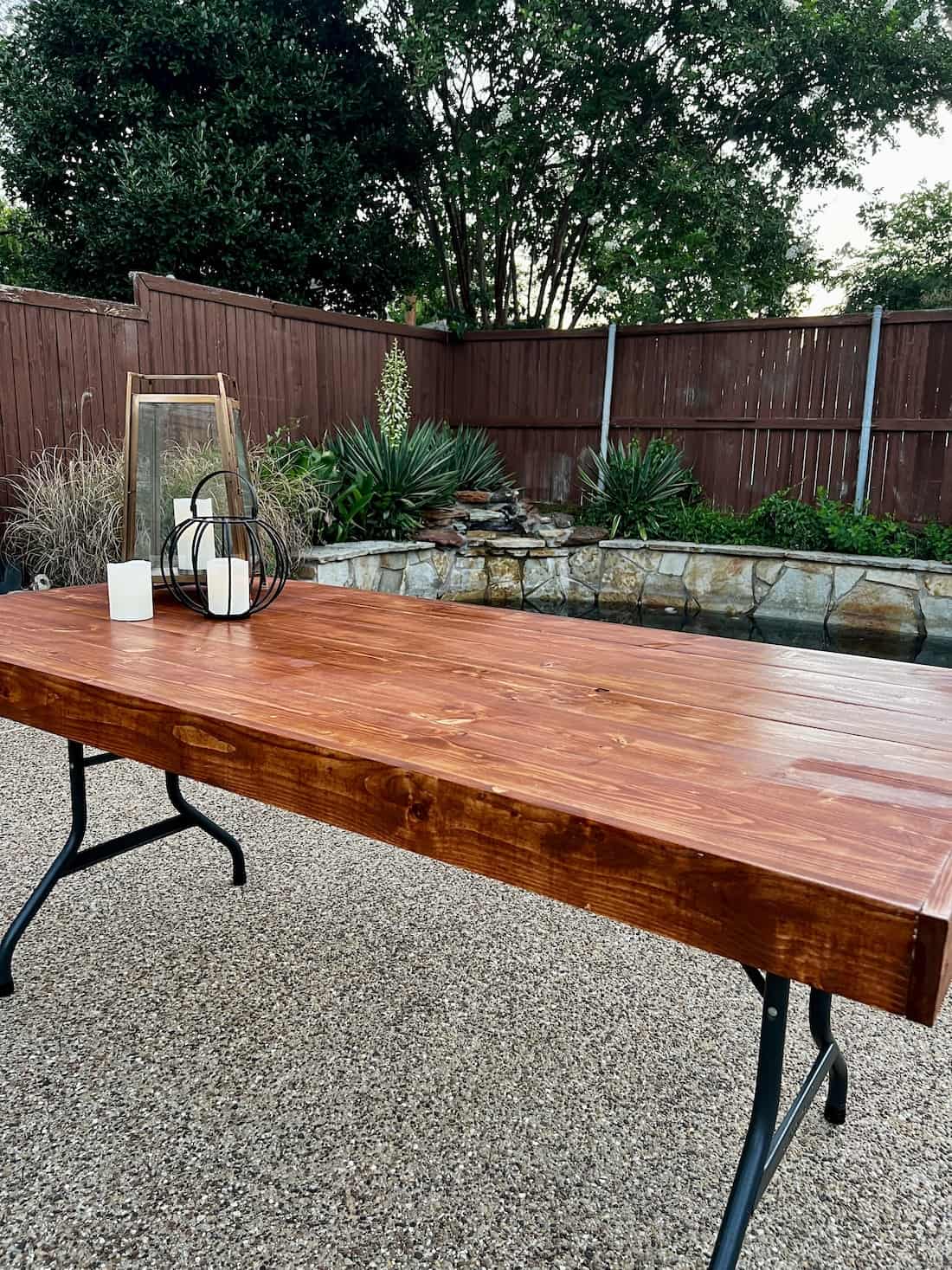 You could use this tutorial with any size folding table. It can also be adapted to work for card tables or game tables. It's a great option if you have tight spaces and you need more seating, but not all the time.
Supplies You Need
Before I list the supplies I should say that I don't OWN the power tools. I have a handyman, Grant, who helps me out with all my building projects. He is also willing to show me how to use his tools. If you don't own the tools, it can be cheaper (and safer) to hire someone who does.
This supply list is for a 32″ x 72″ table. If your table is smaller, you can cut the 1×6 to the size that fits your top. If your table is longer you will need to get boards that are more than six feet. Home Depot carries standard 6-foot and 8-foot lengths.
6 pieces of 1x6x6 lumber, Did you know a 1×6 is not really six inches wide? Look for boards that have no cracks for a nicer tabletop.
3 pieces of 1x4x6 lumber to trim the edges of the table.
Plastic folding table – similar plastic table here
Table saw (or you can often get Home Depot to make a few cuts for you if you go at an off-peak time)
Sander – You can use an orbital sander or hand sanding works
120 grit sandpaper and 80 grit sand paper, you can use finer sandpaper at the end if you want a smooth finish
Wood glue or liquid nails, be sure to get waterproof glue
Hammer and nails or brad nailer
Oil-based Spar Polyurethane (be sure to get one that says outdoor if you want to use your table indoor and outdoor)
Clamps – we used two different sizes, smaller clamps to attach two planks together and longer clamps to hold all the planks together. If you have two people working on the project, you can use your helper to hold the boards together.
This post contains some affiliate links for your convenience. Click here to read my full disclosure policy.
Steps to make the Removable Top
The first thing to do is give the table a good cleaning if your table has been stored away.
Measure the length of your table. Cut the 1×6 lumber to be the same length as your table. For a 6-foot table use 6-planks. Many folding tables are exactly 6 feet long, which means you don't have to cut lumber but if you're using a card table you will need shorter pieces.
The table top is fastened together with pocket holes AND wood glue. Mark spots on the 1×6 every 8-10 inches for the pocket holes. Drill the pocket holes. The boards I used were 3/4 inches thick and we used the 3/4 inch jig for the pocket holes. Repeat this for all boards.
Set the first two 1×6 boards flat as they will lay on the table. Turn the boards on their side and spread wood glue along the side. If you have a clamp, use that to press the boards together while you insert the pocket screws. Repeat two by two until you have 3 sets of two boards.
Lay all of the planks down and add glue between remaining sets of planks. Use a clamp to hold the boards after you apply glue and insert the pocket hole screws.
Once the flat part of the top is assembled set it on top of the folding table. Cut the 1×4 into pieces that fit the four edges of the table. This forms a lip that goes around the tabletop to hold it on.
Attach the 1×4 pieces with glue followed by nails. Be sure to nail at the top edge so that your nails hit the table top instead of the plastic.
The table top needs a good sanding before you stain it. You can use a hand sander or an orbital sander. I used an 80-grit pad first, followed by a 120-grit pad.
Now the hardest part is over, the fun part is staining the table. Be sure to wipe the table with a lint-free cloth before you apply stain to remove any dust.
Staining is so quick compared to painting. You can do the entire tabletop with an 8 oz can. I used a foam brush to apply the stain in the direction of the wood grain. Then I use an old t-shirt to wipe off the excess stain. If you are a messy painter (as I am) it's a good idea to use a drop cloth under the table.
Once that is dry, coat the top with polyurethane. I applied a second coat so that the table can withstand the elements. This is an oil-based protective coat so be sure you apply it in a well-ventilated area.
Now enjoy. I haven't tried the table inside, but I will use it in front of the fireplace.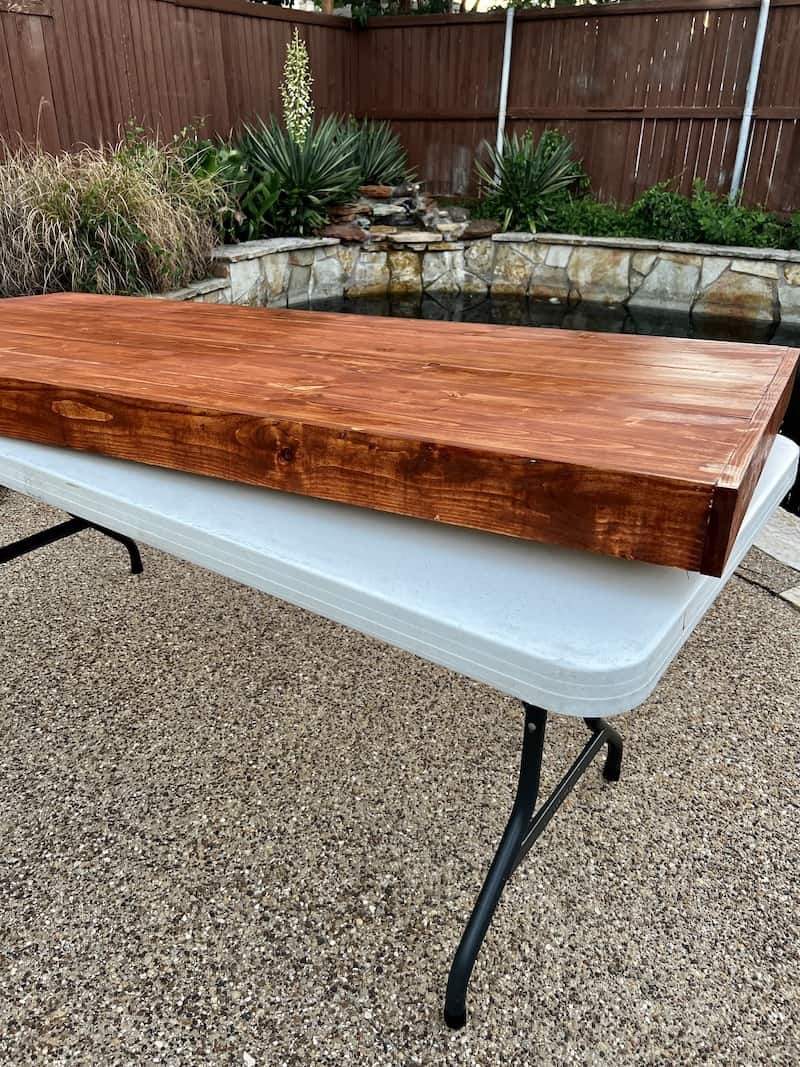 What I would do Differently
I learn something with every DIY project and there is always something I would change.
I didn't do anything to change the look of the table base. Next time I would spray paint the legs matte black with a rust-proof spray paint.
I would sand the table more thoroughly before staining it. By the time I get to sanding and staining I'm usually in a hurry to finish because everything always takes longer than I expect. The table would benefit from a few extra rounds of sanding.
If I wanted to make the project less labor intensive, I would use a sheet of plywood under the wood planks instead of fastening the lumber together with the pocket holes.
This is an intermediate DIY project, just because of the tools that are required. This table makeover is something that I can use so many places. I hope it gives you an inexpensive and easy-to-store alternative to a dining table AND a picnic table in one.