Crepe Bar Ideas: An easy way to entertain
Crepes are the ultimate make-ahead dessert. My family couldn't get together for Easter this year, but we decided to have a crepe brunch to celebrate later.
Instead of filling the crepes for everyone, I thought setting up a crepe bar would be more fun. That way the person who loves lemon can have lemon and the one who only likes chocolate can have chocolate. Crepes are the perfect blank canvas for any filling.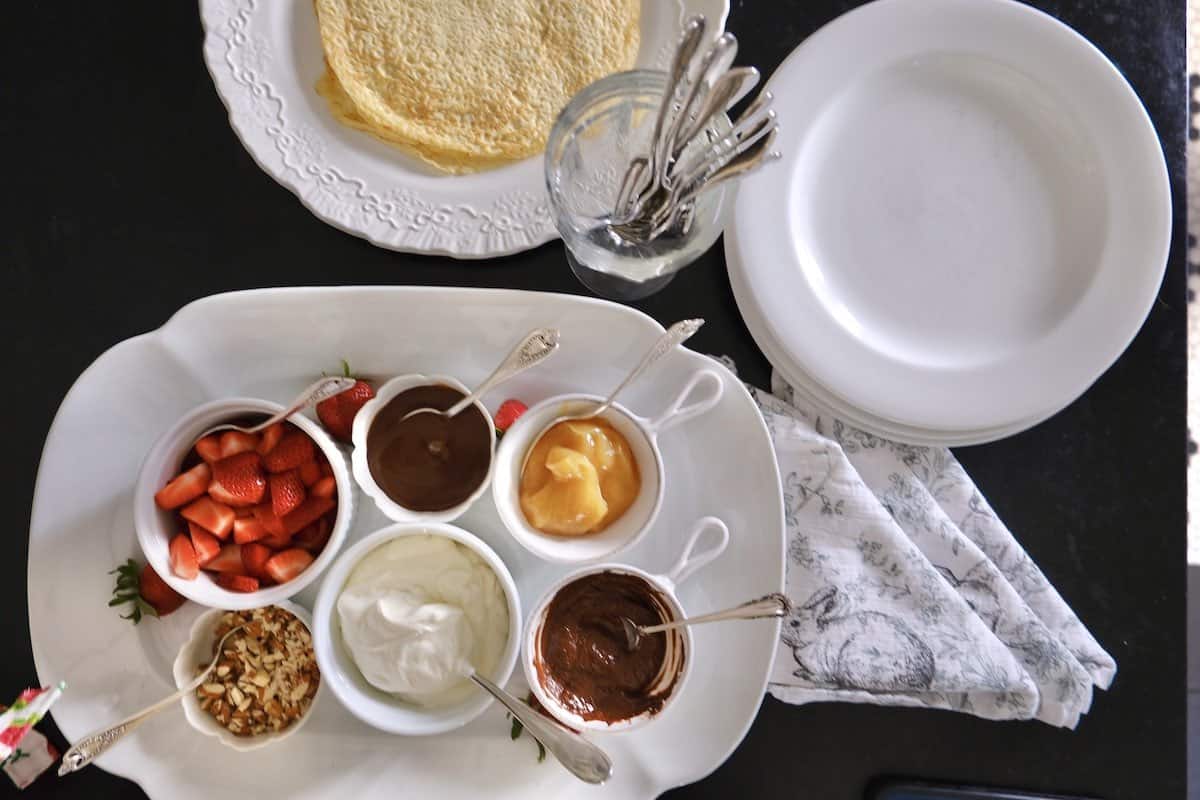 If you are intimidated by the idea of making your own crepes, they are really just thin pancakes. You don't need a special crepe pan, you can use any nonstick skillet. You DO have to make the batter ahead because you have to let the batter rest in the refrigerator. I have a tutorial here, but you can also buy finished crepes at many grocery stores.
The Primary Cream Filling
I decided to make one filling for my sweet crepes and make the toppings the thing that everyone can choose.
The sweet creme filling used was:
1 cup whipping cream, beat until stiff peaks
1 cup creme fraiche softened (or you can use cream cheese)
1/4 cup powdered sugar or confectioners sugar
1/2 teaspoon vanilla
1 tablespoon lemon juice
You could make a variety of sweet fillings, but I decided it was easier to let people choose their toppings instead of fillings.
Basic Crepe Bar Setup (kid friendly)
To set up a crepe bar you will need a variety of toppings. I wanted something quick, so none of these toppings are homemade. Here are the ones that I used:
caramel sauce – Trader Joe's caramel sauce is excellent
lemon curd – Trader Joe's lemon curd is also really great
melted chocolate
fresh fruit (there's a wide variety of fruits that you could use, but choose whatever is in season)
toasted sliced almonds (for a bit of crunch)
You can set each one out in a bowl with a separate serving spoon. Or you can make a crepe board, if you like to set them out in the dining area. The only downside of that is that many of the toppings are sticky so they are harder to serve. My personal preference is to set it up in the kitchen instead of on the table.
Epic Crepe Bar Ideas for Dessert
If you want crêpe bar that is a little more sophisticated, try using a few of these more unusual fillings
Mascarpone cheese with a little bit of honey
Whipped ricotta with honey and lemon zest or orange zest
Greek yogurt (I would use the full-fat kind for this) mixed with fresh fruit or honey
Chocolate mousse – this one is just two ingredients
Whipped cream infused with earl grey tea
Apples sauteed in butter and brown sugar (like an apple pie)
chocolate hazelnut spread (nutella crepes are a classic you see everywhere)
To take the toppings up a notch try these (including links to recipes that I want to test):
Toasted coconut
Rosewater infused whipped cream (this recipe is for a cake with the cream, but you can make just the cream)
Grand Marnier-infused whipped cream
Savory Crepe Bar Ideas
I know not everyone wants to have a dessert bar, so I wanted to give a few ideas to those who want a savory crepe bar. The challenge with savory crepes is that most of the fillings are meant to be served hot. You can use the same simple recipe for the crepes themselves, just add a pinch of salt.
You have two options for savory crepes, you can make a variety of stuffed crepes ahead or serve crepes with all of the fillings. Making them ahead allows you to serve things like ham and cheese (where the cheese is melted inside the crepe). Otherwise, you can make a few savory fillings and serve them family style with crepes.
Ratatouille (a great option for vegetarians)
Scrambled eggs, bacon and cheese.
Shredded chicken mixed with pesto
Sauteed mushrooms, onions and garlic
Roasted peppers and onions with goat cheese
How to use Leftover Crepes
One of my favorite fillings that's not on the list above, because it doesn't work well for a DIY crepe bar, is melted butter, sugar and cinnamon. If you've never tried this, you should. It's the perfect way to use those last few crepes.
I also freeze crepes in an airtight container and pull some out when I'm pinched for time. Fill them with a little cheese they are an easy main dish you can serve with a salad.
Classic French sweet crepes are rolled, but you can also fold them into a pie shape. They can be served at any time of day. You could serve them at brunch, lunch or even for dessert at a dinner party. What makes them so perfect is that you can make them ahead. They freeze beautifully and you just have to that them to room temperature before serving.
Try setting up a crepe bar the next time you have guests and let me know how it goes in the comments.
Before you go, if you liked this article you might like to read: Dessert crepe filling ideas and Dessert crepe filliing ideas with video.
Related Posts: