Creative Ways to Use Wallpaper If You Decide You Can't Live Without It
Wallpaper is back in a big way, but not all of us have the ability or the desire to wallpaper an entire room. There are ways to embrace the wallpaper trend WITHOUT putting it on your walls.
New wallpaper is a stunning design element in most spaces. The cons of wallpaper are almost as large as the list of pros. I still remember my floral bedroom from childhood. It was so cool one day, but I got really tired of looking at it. In the 1980s many wallpapers were big and bold. Modern wallpapers feel much more subdued and many are darker colors.
Think of wallpaper just like you would a more trendy piece of clothing. You might LOVE it for a while, but trends change. Will you still love your boxy blazer when shoulder pads go out of style?
If you love the idea of wallpaper, but you don't want to make the commitment, I've got some alternate ways to use it.
Wallpaper Cons: Important Factors You Must Consider
If you're fantasizing about wallpapers, here are a few reasons to wait a bit before jumping on the interior design bandwagon.
Wallpaper itself is expensive if you buy high-quality wallpaper
Professional installation can be costly but is often necessary
Wallpaper can be bad for resale because not everyone likes the same pattern. It's even more personal than paint.
Removing old wallpaper is hard and very tedious (if you get tired of it). Removable wallpaper is expensive.
Wallpaper is hard to install yourself (DIY) if you have a damaged wall
Wallpaper can be difficult to install if you have any texture on your walls. Smooth walls make installation much easier.
The Pros of Hanging Wallpaper
Wallpaper can be a really good tool for hiding things in really high traffic areas. You might notice scuffs on a wall, but wallpaper will hide that. This makes it the best option for mudrooms and hallways.
Wallpaper can upgrade a small space that doesn't fit a lot of decoration, like a laundry room.
If you don't plan to sell your home or move, wallpaper can make an old dated room look fresh and new.
Best Places to Install Wallpaper In a Room
Even though there are a lot of downsides to wallpaper, if you love it you shouldn't miss out. There are ways to use wallpaper that don't require as big of a commitment.
Accent Walls – You can use wallpaper on an accent wall. It's a much simpler DIY project if you don't do the whole room. Doing one wall is also a lot less expensive and still makes a statement. Ceiling count as an accent wall, or you might want to paint your ceiling.
Back of A Bookcase – you can use removable wallpaper on the back of a bookcase in a bedroom or living room. It's much easier to install and it makes a big visual impact.
Inside a Hutch – Similar to a bookcase, papering the inside of a hutch is an easy way to use your favorite wallpaper.
Doors – Wallpapering a door is a fun way to add your favorite print. If the door has woodwork you can use that as a frame for the wallpaper, or just do the whole door.
Framed Like Art – I've always wanted to frame a big piece of wallpaper. The wallpaper available now is as beautiful as some artwork. You can get a large frame and use wallpaper as your artwork.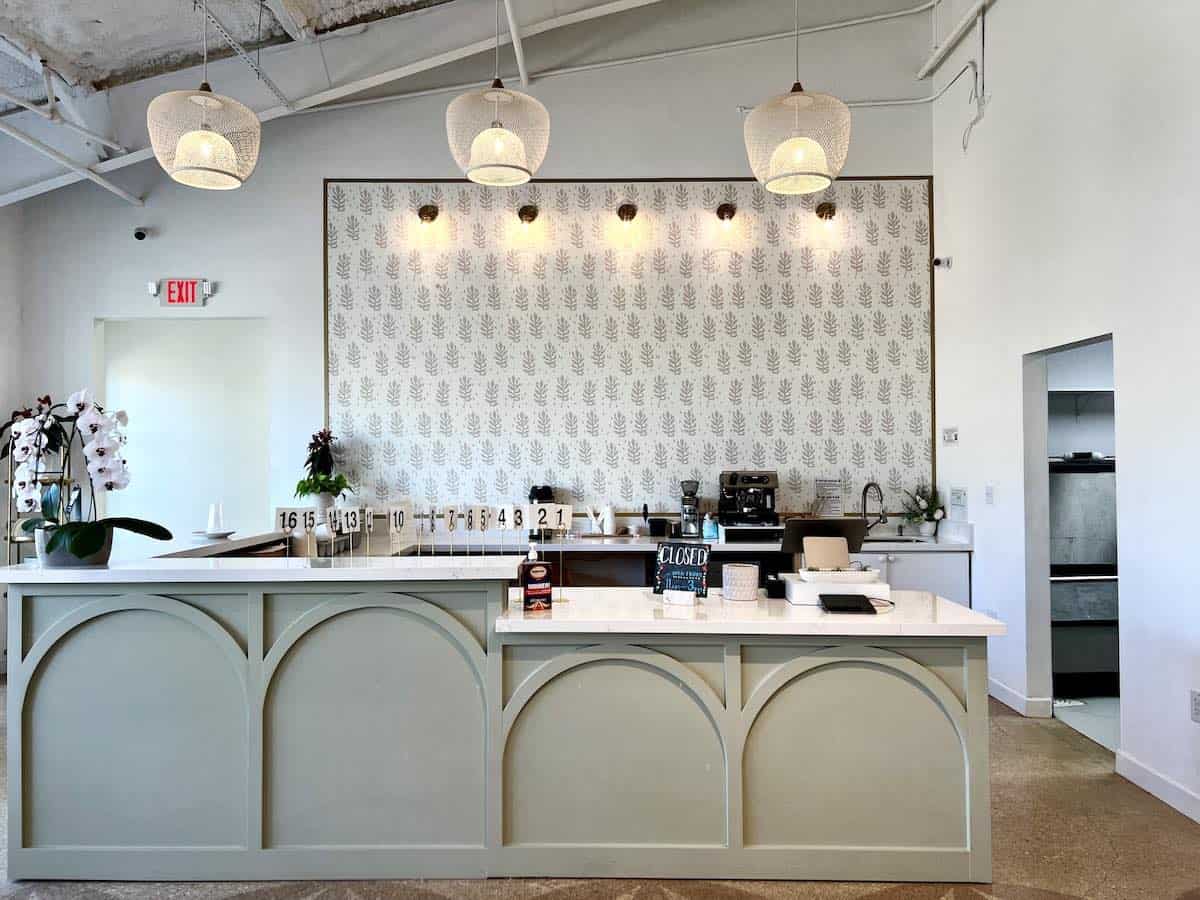 Paintable paper – You can use paintable wallpaper. Paintable wallpaper adds texture to a wall, but still gives you the flexibility to change. You can paint it using solid colors and get a wallpapered look.
How to Find A Wallpaper Installer
If you go to Google and type in "professional wallpaper installer near me". No matter where you live the first few things that come up are Angie's List (I talked about why I stopped using Angie's List), Home Advisor (which is ALSO Angie's List) and Thumbtack.
I prefer to use Thumbtack because you can see a list of installers with ratings and how many jobs they've done in your area. You don't have to enter your job and give them your phone number until you see who has good reviews. You can also see pictures of their projects.
How Much Does Professional Wallpaper Installation Cost?
When you see someone install wallpaper who knows what they are doing, you'll realize that it takes skill and the right tools.
Installing wallpaper depends on the number of square feet they need to cover. This work is not done by professional painters (it's a different trade). Painters don't have to think about matching up a repeating pattern. This is VERY important with wallpaper.
The installer will either quote you using square feet or by the number of wallpaper rolls. A standard roll of wallpaper is 21 inches x 16 feet. You can get double rolls that are 33 feet. You have to factor in about 10-15% waste when you buy your wallpaper, too.
The average cost to install a single roll of wallpaper is $100 to $150. The cost can be higher if they have to smooth out your walls before installation.
If you love wallpaper, I hope this has given you a few ideas about how to use it. You don't have to wallpaper a whole room or even a whole wall. There are ways to incorporate wallpaper in many creative ways.
Before you go, you might like How to Update Furniture Without Paint or How to Refinish Wood Without Stripping it or Should you paint your ceiling?