Brooklinen Vs Boll & Branch Sheets- I've Washed and Slept on Both
I consider myself a sheet expert since I owned a B&B for 13 years. You really get to know sheets when you are making 6 beds 7 days a week. I have tried ALL the brands. I've tried 100% cotton and linen, but not flannel sheets because it doesn't get that cold here.
This post isn't about selling you sheets, I don't have any affiliate/income at stake. After what I have to say about both brands, I wouldn't earn much if I did.
The story behind the bedding brands Brooklinen and Boll and Branch is that they skip the retailer and bring luxury hotel-quality sheets straight to the consumer. But do they really? Yes, they skip the retailer, but I would argue that the quality is no better than MANY sheets that are half the price.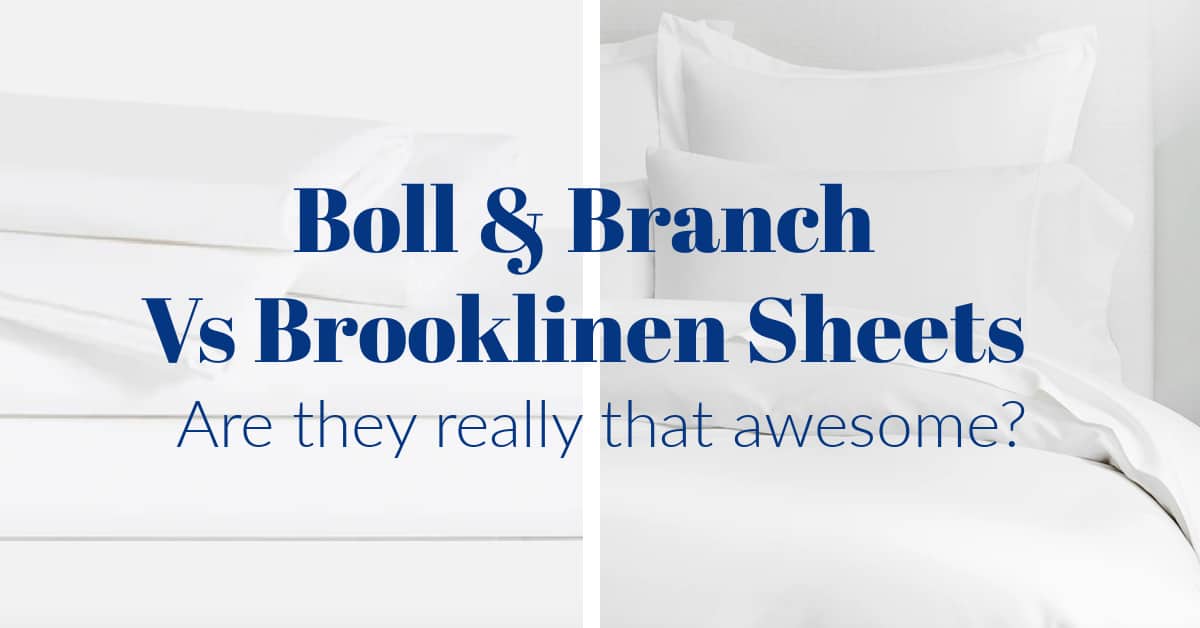 Brooklinen Sheets Pros and Cons
I'm only talking about cotton sheets in this post, click here to read about linen sheets. Brooklinen has two types of cotton sheets, percale and sateen. A set of queen percale sheets in 2022 start off at $143. Their sheet sets include a fitted sheet, top sheet and 2 pillowcases. The thread count is 270 for percale weave. The same set in sateen weave is $161 and the thread count is 480.
When you unwrap the sateen sheets they feel more like luxury sheets. In truth, I had a set of Brooklinen percale sheets for myself and my son, but ours developed a big hole after two years. These are good sheets for hot sleepers, warmer climates or just during warmer months because they are so light, but they are VERY THIN.
Brooklinen has a 365-day return policy and excellent customer service. I was not able to determine where they are made (seems odd that it's a mystery).
Pros of Brooklinen sheets:
They sleep cool
The envelop closure on the pillow cases is nice
They come in lots of colors (7) and more limited edition colors and patterns (7)
Cons of Brooklinen sheets
They don't last very long in comparison to other sheets I've used. I don't use bleach or any harsh detergents.
They are expensive, even without the "middle man".
Boll & Branch Sheets Pros and Cons
Boll & Branch only makes sateen sheets, not percale. They have lots of different colors and patterns. A set of queen sheets in 2022 start off at $278 and includes a fitted sheet, flat sheet and 2 pillowcases. Their signature sheets are called "hemmed" which I don't quite understand. All sheets have a hem. The thread count is 300.
Boll & Branch fitted sheets will fit a fairly deep pocket, up to a 17-inch deep mattress. Boll & Branch makes sheets in India, Portugal, and the United States.
Pros of Boll & Branch Sheets
These sheets have a nice weight to them
Cons of Boll & Branch Sheets
Not worth the price. I've purchased percale sets at a much more affordable price that were just as nice.
Limited colors (seven choices).
What is The Difference Between Percale and Sateen?
Sheet manufacturers usually have two types of sheets that are 100% cotton. These are percale and sateen.
Classic percale sheets have a crisp feel and are described as airy and cool. The real difference is usually thickness and the weave. Percale sheets are thinner with a looser weave. This makes them feel lighter.
Sateen is described as cozy and buttery. The sateen weave is tighter which makes them heavier with a silky feel. They are soft sheets vs crisp.
Both types of cotton are high quality, it just depends on your personal preference.
Is Higher Thread Count Better?
Thread count used to be the one thing that everyone used to measure sheets, In theory a higher thread count denotes more luxurious sheets. That number has become less relevant because thread counts got SOOO high that they seem suspicious. Is that even possible?
The higher the thread count, the denser the material. This ISN"T a good thing for a warm sleeper. Percale sheets will always have a lower thread count.
What is OEKO-TEX or Certi-PUR?
Oeko-Tex certification is a certification manufacturers can get if they meet certain criteria. Sheets that have an Oeko-Tex label "have been tested for harmful substances and which are thus safe from a human-ecological perspective". The label also means that "textiles which have been tested for harmful substances and also manufactured under sustainable working conditions".
Brooklinen and Boll & Branch sheets both have this label. But, many companies get this certification, including inexpensive sheets that are sold on Amazon.
Conclusion
If I had to choose between Brooklinen and Boll & Branch I prefer Brooklinen's percale sheet set. They are better if you live in a climate that gets hot.
However, I think there are sheets that are just as good at a much lower price point. These two sheets are more expensive because they have large advertising budgets which is why so many influencers push them. It's not because they have better quality.
I recently purchased a set of California Design Den sateen sheets at a reasonable price in fact, half the price. They felt every bit as good and had the same certification, thread count, etc. If you prefer percale, check out Sleep Mantra's sheet sets. They also have all the same organic designations and thread count at a much lower price.
This post contains some affiliate links (not for Boll & Branch or Brooklinen) for your convenience. Click here to read my full disclosure policy.
Sometimes if you HEAR a lot about a brand it's because they are paying for lots of advertising, but not always because the quality is better.