9 Ways To Fill the Gap On Top Of Your Kitchen Cabinets
The top of your cabinets is a lot of blank space that you can use to display. What you can display depends on the height of your kitchen ceiling. If your ceiling heights are ten feet, higher than the standard height of 8-foot ceiling, you've got space to work with.
It's an area of your kitchen that you might be overlooking. Builders used to fill up that space with a drywall soffit or filler strip, but the outdated look of soffits are not popular in newer homes. If you have a large gap with plenty of space I've got nine ideas for what you can put on top of your upper cabinets.
Two things to keep in mind are size and scale. As a general rule of thumb, you don't want the top of your cabinets to look like the place where you stash everything that didn't fit inside your cabinets. You want it to look intentional. The best way to keep it uncluttered is to use a few large pieces. Everything looks smaller when you're looking up, particularly if you have taller cabinets. Stick to a handful of statement items.
Extend your cabinets to the ceiling – Structural changes are by far the most expensive option because they require a professional. Any carpenter that makes kitchen cabinetry can seamlessly match your old cabinets and convert them to ceiling height cabinets with new doors. This is also one of the best ways to modernize your kitchen. If you look at new kitchens they all have cabinets that go all the way up. This is a great way to make the most use of empty space and create extra storage space if you have a small kitchen.
A Collection – If you collect antique boxes, wood cutting boards or platters/plates that you don't use all the time this is a good thing to display. It's a smart way to display larger items that you collect rather than smaller pieces.
Faux plants – You will be limited by ceiling height so you need to stick to plants that are low. A few of my favorites are faux pothos and peperomia watermelon because they hang down naturally. Plants are a good way to fill many awkward spaces in a home and this is no exception.
Baskets – Baskets are easy to stack on top of cabinets for decorative purposes and they add texture. You don't have to use tons of baskets, but try to stick to odd numbers, one or three instead of two.
Ceramic Pottery -Ceramics and pottery work well up high if they are large. Try not to put a small collection of ceramics up because you can't see small items. Here's an example from Ballard Designs where they have a large ceramic crock on top of the wall cabinets.
Books – Books can be a tricky thing to put high up. Stick to large books and just a few. Lots of books can look like you're trying to fit a library up there.
Art – Art is tricky to display above a cabinet. For it to be easily seen, you need to set a prop behind it to push it forward and keep it upright.
Pitchers – This one is directly from my mom. She collects ironstone pottery. She likes to showcase all her pitchers above the cabinets. It's a practical solution because some of them are cracked and they aren't really meant to be used.
Sculptural Pieces – Sculpture is a broad category. It could be anything. I've put a wooden goose in the dead space above the cabinets.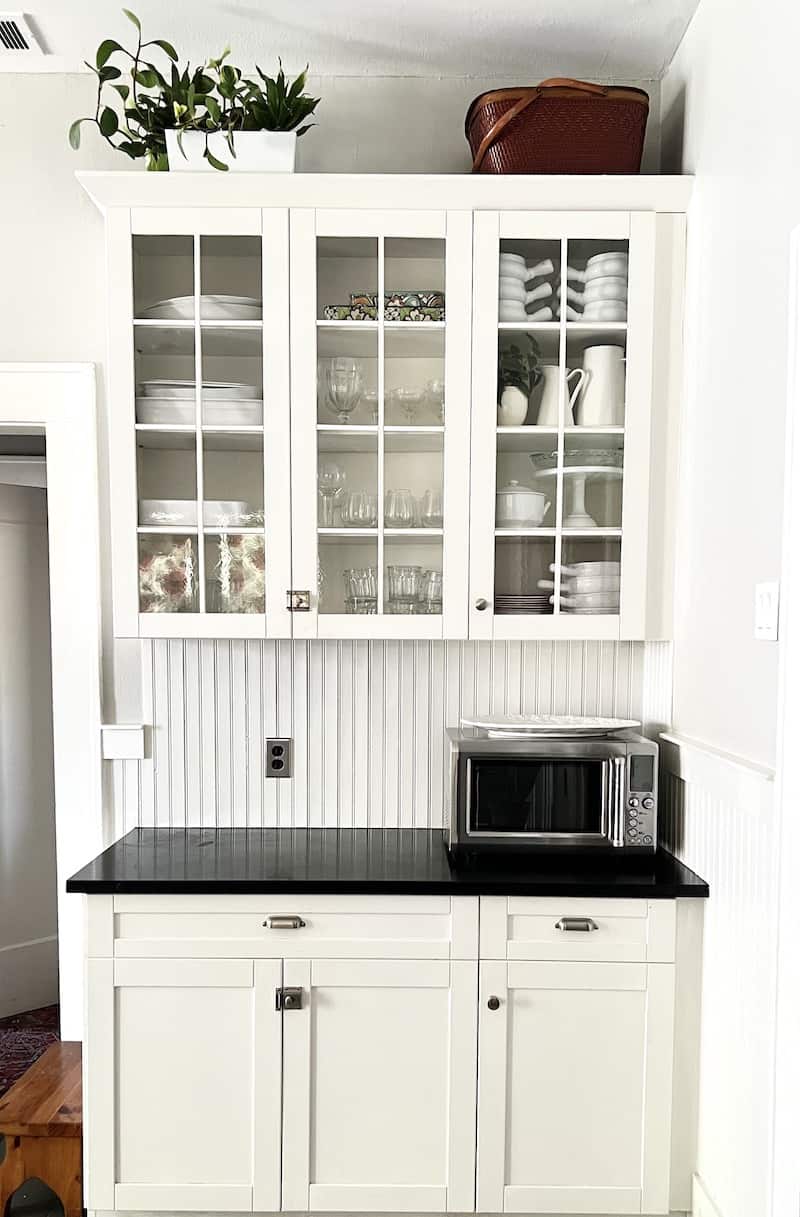 Air – I'm not sure if this counts. If the distance between the tops of the cabinets and the ceilings is less than 12 inches, consider leaving she small gap open. Sometimes your eye likes to see some blank space. If you look at houses for sale you can see that there is nothing above the cabinets. It's a very clean and minimalist feeling.
Bonus – If you like to display seasonal decor, use the space on top of your cabinets. You can use garlands attached to your crown molding or seasonal wreaths.
Ideas For Above The Cabinets
I choose every product I review. I may earn a small commission if you buy from one of the affiliate links, at no extra cost to you. This income supports this site. See the full disclosure.
If you're in the market for a few things to put on top of your kitchen cabinets, here are a few ideas.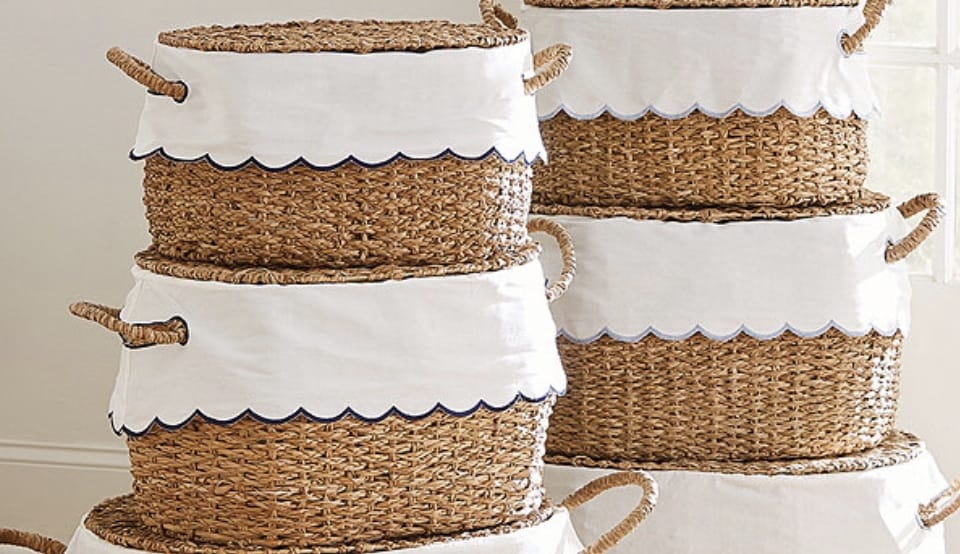 The downside of adding decorative items to the tops of your cabinets is that they become dust catchers. Dusting up there is a good idea
once a year. I find it easier to do this by standing on my countertops, but you might need a ladder. Be careful either way!
You might find that the tops of your cabinets are not flat. Especially if you have crown moulding which sticks out beyond the top of the cabinet. Before you can display things you need to create a flat surface. I've used a leftover piece of wood on to make a flat shelf.
You might need to prop things up from behind to make them sit up straighter. Styrofoam blocks are a great option to prop things up. Plate stands are also useful on top cabinets for both artwork and plates.
Adding a few things to the top of your cabinets can give your kitchen a finished look. These same 9 things are also a good way to decorate on top of tall armoires.
Before you go you might be interested in How to Style Glass Front Cabinets and How to style a dining room hutch.