5 Warm Autumn Color Palettes: This one's for anyone who hates orange
It's that time of year again. We're all getting ready for the arrival of fall and we want to make sure that we do it in style. But how can you transition into this season without using orange if that's not a color you like? There are lots of other color palettes to choose from.
In this blog post, I'm going to share 5 different palettes that will work well in your home decor during the fall months!
You can achieve each of these color palettes without spending a fortune. You just need a few accessories like pillows, a throw blanket, and a few candles or candle sticks and some books. If you have relatively neutral furniture, it's easy to add seasonal colors, even if you change your mind every year.
Looking for more fall inspiration? Get tips from eight other bloggers in this Fall 2021 hop. Check out the links at the bottom of this post.
1. Warm neutrals with hints of green and brown
This is a classic. Warm neutrals are always an easy choice. The green and brown give it just enough color to bring in the cozy feeling of autumn. I like using warm neutrals in my own house year-round because they're not only easy on the eyes but also have an inviting vibe that sets up my living room for entertaining guests.
green pillow, Magnolia branches, green throw blanket, wood candle holders, brown linen pillow
I choose every product I review. I may earn an affiliate commission if you buy from one of the product links, at no extra cost to you. This income supports this site. See the full disclosure.
2. Warm pink-based colors with a hint of blue for a feminine touch
I love this palette because it's so feminine. Warm pink-based colors are soft but if you live with a man, sometimes adding a touch of blue is a good compromise so it's not too girly. The blue adds just enough variation to keep things interesting without being too much for your home decor in general.
blue throw blanket, blush velvet pillow, blush pink candles, blue vase, pink and blue pillow
3. Cool blues and greens to evoke the feeling of crispness in the air
I like using cool colors in my home to keep the feeling of crispness. Warm neutrals are great for this, but blue and green have a really cool effect on your eyes when they're used together – it sorta feels like you're not at home so much as outside! It only takes a few accessories to get the color palette to work, as long as it works with your everyday furniture. Warm neutrals make me feel cozy, but cool colors can be a great way to bring in the "chill" feeling of fall.
green and blue pillows, green throw blanket, blue picture frame, blue vase, eucalyptus branches
4. Warm purples to celebrate the harvest season
I love using warm purples during the fall because it's a great way to celebrate the harvest season. Warm neutrals mixed with purple gives off an autumn feel without being too bright or dark, so you can use this palette throughout your home and have a different vibe in each room! In my mind I see artichokes.
purple vase, purple pillow, artichoke stems, green throw blanket, plaid pillow
5. Warm yellows for those who want something more cheerful than browns or grays this time around
This is a great palette for those who want something cheerier than browns or grays this time around. I'm not a huge fan of YELLOW, but I like a soft buttery yellow during the fall because it's not too bright or dark. Butter yellow has that autumn feel without being so obvious about it.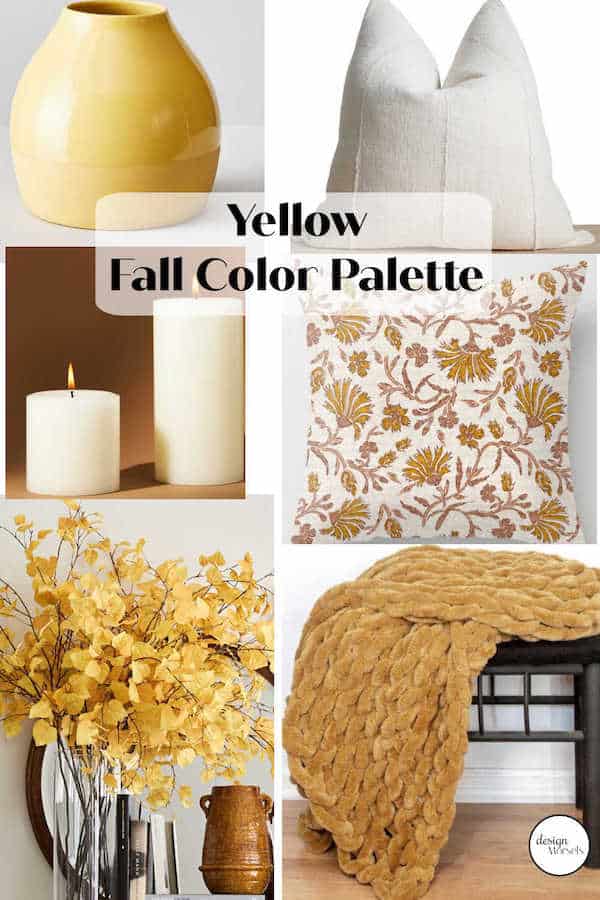 yellow vase, floral pillow, yellow chenille throw, faux aspen leaves, cream canvas pillow, cream candles
I hope these color palettes will give you some ideas for decorating for fall without orange. Do you have a favorite fall color scheme that's not the norm? You can see my fall mantel here (it's pink and blue).
Fall is a time of year when people are looking to welcome the crisp air and changing leaves with warmth and comfort. Warm neutrals will always be a classic choice for this season but there are lots of other choices that can give your home decor some of your individual personality. I've shared 5 different color palettes as inspiration – what was your favorite? Let us know in the comments below! Which one has captured your imagination so far?
Fall Hop
Now it's time to see how some other talented bloggers are getting their homes ready for fall.
Celebrate And Decorate / Feet Under My Table / Peacock Ridge Farm
Cottage On Bunker Hill / My Homier Home / WM Design House
Robyn's French Nest / One Step Woman / Chas' Crazy Creations