Does your family hate fish? My family always dreads fish night. But, this year since there is so little dining out I've committed to learning to cook fish that is next level.
I mentioned before that I bought the FoolProof Fish cookbook. I tried the one pan halibut recipe first, which was delicious. This is my third recipe and it is the best far.
This post contains some affiliate links for your convenience. Click here to read my full disclosure policy.
When I made this every member of my family liked it. That never happens. We have very different likes and dislikes, they like steak and potatoes. 😥 These cod cakes are easy to make, quick and even steak lovers liked them.
ingredients for cod cakes
20 ounces of cod – I used the thawed, frozen cod I got in my Butcher Box
1 1/2 cups panko bread crumbs
3 tablespoons of mayonnaise
1 egg beaten
2 tablespoons chopped basil
2 scallions chopped
Zest of one lemon
Juice of one lemon
2 cloves of garlic
1/2 teaspoon salt
1/4 teaspoon pepper
1 tablespoon avocado oil
Steps to make cod cakes
First, put half of the panko bread crumbs aside in a shallow dish.
The only slightly tricky part of this recipe is chopping up the cod. You have to minimally chop it in a food processor. Divide the cod into two batches and pulse in a Cuisinart. Just pulse 3-4 times so there is a rough chop. You don't want it to become a paste.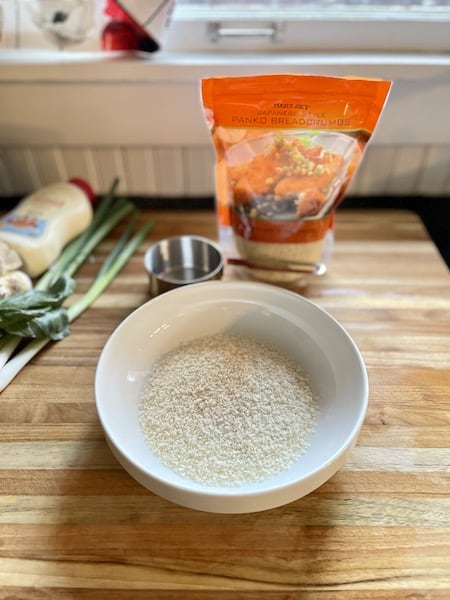 The rest of the recipe is a little like making a meat loaf. You just combine all of the other ingredients in a bowl. Add the remaining bread crumbs, lemon zest, lemon juice, beaten egg, chopped basil, chopped scallion, garlic, salt, pepper, mayonnaise, salt and pepper.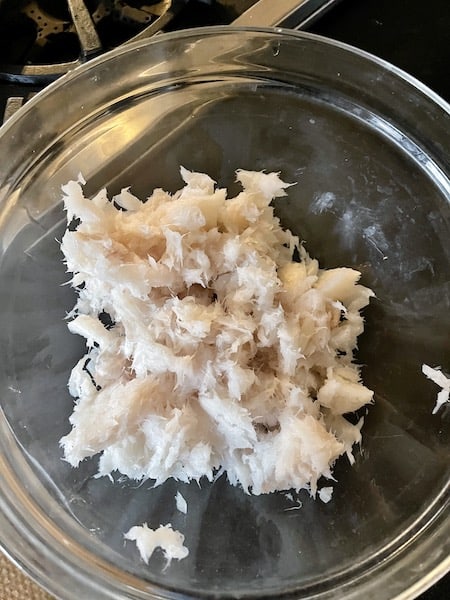 Mix the ingredients with your fingers only as much as you have to to combine. Don't over mix. Form them into patties. Dip the patties into the remaining bread crumbs.
Heat the oil in a nonstick pan to medium. Cook the patties for approximately four to five minutes per side.
Serve the cod cakes with lemon and a vegetable and it's a quick meal. These cod cakes are delicious with Tzatziki sauce from Trader Joe's. I served with roasted some asparagus.
My son still thinks these cod cakes are crab cakes, but he ate them up. He claims that he doesn't like fish. We'll see.
Print Recipe
Cod Cakes
These cod cakes are family favorite.
Ingredients
20

ounces

of cod – I used the thawed

frozen cod I got in my Butcher Box

1 1/2

cups

panko bread crumbs

3

tablespoons

of mayonnaise

1

egg beaten

2

tablespoons

chopped basil

2

scallions chopped

Zest of one lemon

Juice of one lemon

2

cloves

of garlic

1/2

teaspoon

salt

1/4

teaspoon

pepper

1

tablespoon

avocado oil
Instructions
Set aside half the panko in a shallow dish.

Roughly chop the cod in a cuisinart. Pulse 3-4 times in two batches.

Combine all of the ingredients in a bowl.

Mix just to combine, minimally.

Form into patties and dip in the remaining bread crumbs.

Heat oil and saute the patties for about 4-5 minutes on each side.

Serve with lemon.