Get One Of A Kind Planters With Paint
Cute planters are a fun way to add interest to your porch and even indoors. Welcome to this month's DIY Craft Hop if you are here from Birdz Of A Feather. Today I'll be sharing how to paint terra cotta pots, a great way to get one-of-a-kind planters. You might say terracotta or clay but it's all the same material.
Terra cotta is my preferred planter material because it's good for plants. It's a porous material so it can absorb excess water, which prevents your plants from sitting in soil that is too wet. They are also really inexpensive, which is better for your wallet.
This is a great project for beginners and children. It's also fun and there's no wrong way to do it.
Supplies For Painting Clay Pots
I choose every product I review. I may earn an affiliate commission if you buy from one of the product links, at no extra cost to you. This income supports this site. See the full disclosure.
These are the supplies you'll need, which can all be collected at Home Depot or through Amazon.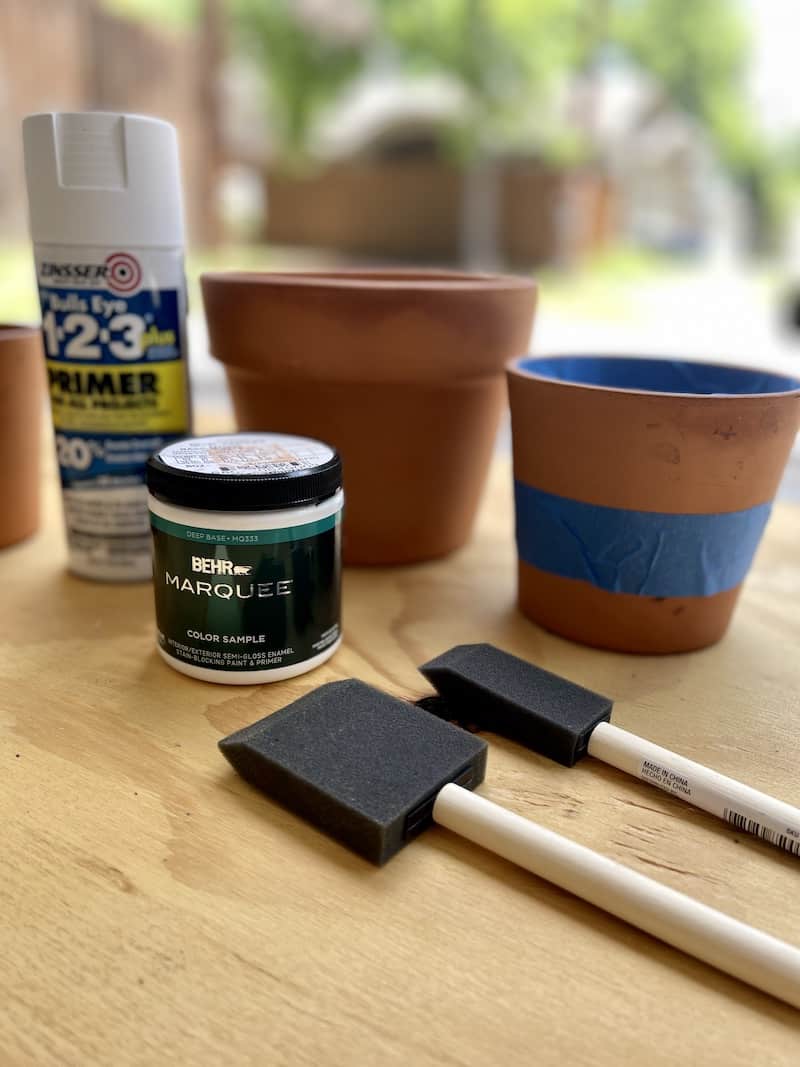 Clay Pots – I like to get them at Home Depot, but if you want to have them delivered you can find them here. I recommend searching by size, 4-inch, 6-inch, etc. and only get pots that come with a saucer or have a saucer available.
Painters Tape – You don't have to use painter's tape, unless you want to add a stripe or tape off the inner lip of the pot.
Paintbrush – Foam brushes are great for this task.
Paint – almost any kind will work. I've used chalk paint and regular acrylic paint. The only kind I wouldn't recommend is oil-based paint. I bought the tester sample size at Home Depot.
What Kind Of Paint Do You Use on Terra Cotta Pots?
Clay pots come in every size and shape. I like to use clay pots that have not been sealed because its better for plants, but this means they are very absorbent (with paint too). Be sure to choose a planter that has a saucer so you don't end up with a mess when you water. The best place to get inexpensive terra cotta planters is at Home Depot or Lowes.
Any kind of acrylic paint will work, but it works better if you prime the pots first. The primer helps to seal the outside so the paint doesn't soak in.
How to Prep Terra Cotta Pots for Painting
The first step before you paint your clay pots is to make sure they are clean and dry. Remember before when I said they are porous? This means you don't want to dunk them in the sink or you'll have to wait a day or two. Just dust them off with a damp cloth.
I like to put a rim of painter's tape inside the pot because I don't paint the inside and that way I have a clean line. If you want to apply any kind of tape to get a design, like a stripe that's easy to do with painter's tape. You can also do this after you prime the pots if you want a white stripe.
Coat the outside of the pots with primer. The quickest way to do this is to use a spray paint primer.
Wait for the pots to dry and then paint them with the color you choose. They will take more than one coat and be sure to let them dry for 30 minutes between coats. I ended up painting over the stripes because I didn't like the way they looked.
As I was setting my planters out around my house I began to think of all the fun ways I could use them in other places in different colors. What an easy way to add seasonal decor, yellow for spring, red for the holidays. Have you ever painted your clay pots?
See Other Crafts
Now it's time to see what my fellow bloggers are working on. We are all so different, but I'm always inspired by at least one idea (and sometimes overwhelmed by how skilled they are).
How to Make a Patriotic Door Wreath from Dollar Tree / A Simple Outdoor Lantern Change
How I Made a Very Starry Patriotic Wreath / How to Make Fun Fruit Props
DIY Metal Flower Garden Stake / DIY Knotted Tote Bag
How to Paint a Flower Pot with Ceramic Paint / DIY Copper Rimmed Flowerpot
Dollar Store Bee Candle DIY / Scrapwood Projects That Sell
Creations Seaside Shell Tray / DIY Patriotic Pizza Pan Door Hanger
How to Make a Pillow Insert / Painting Terra Cotta Pots