DIY Magnolia Leaf Garland: This one you can use year after year
Today I'm taking part in a Christmas in July party hosted by Rachel at the Ponds Farmhouse. If you're here from The Tattered Pew welcome. Be sure to read to the bottom of this post to see all of the Christmas in July projects. Be sure to visit Follow The Yellow Brick Home next.
I love the fullness of a magnolia garland but they are REALLY expensive. If you've ever looked at faux magnolia leaves and they don't look very real.
I found a gorgeous Magnolia tree in my neighborhood that could use a trim. I do have a magnolia tree in my front yard, but its leaves are not very pretty. If you decide to borrow stems from a neighbor, it's nice to ask their permission first. I didn't, but the trees I trimmed are so large that they block the sidewalk.
Supplies to make the garland:
Floral wire (the smaller spool because it's easier to wind around)
Clippers/pruners for tree
Fresh magnolia branches
This post contains some affiliate links for your convenience. Click here to read my full disclosure policy.
Step By Step Instructions
I saw a lot of tutorials for magnolia wreaths and garlands that required you to clip the fresh magnolia leaves in 2 or 3 leaf clusters and then string them together. This is a great way to do it, but I really wanted a really full garland for my living room fireplace.
Clip branches that have approximately 10-20 leaf sections.
Wash the leaves with a damp cloth to remove any dust.
Trim off any magnolia flowers or dead leaves
Once dry, apply mod podge to the leaves. Be sure to od the underside of the leaves too.
Starting with the bottom end of the first branch wrap the floral wire around several times as a base. Wind wire up through the branch up to the top. Hold the second stem at the top and rewrap the base of that stem. You are stringing together the stems with floral wire.
I don't add anything to the wired garland because you can use it for any season. I like to tuck things in that aren't attached. You can put this out in the summer and add white blossoms and oranges, in the fall and mini pumpkins, in the winter pomegranates and berries, etc. Adding something colorful is a good way to get a really full look.
I added berries and pomegranates and one of the pomegranates fell, landing on my reindeer antler. 😄
If you want to hang the garland over the front door or down your stair banister, use more floral wire and a command hook under each section will help to hold up the heavier sections.
I added the Greeting Card Christmas Tree that I made last year in July.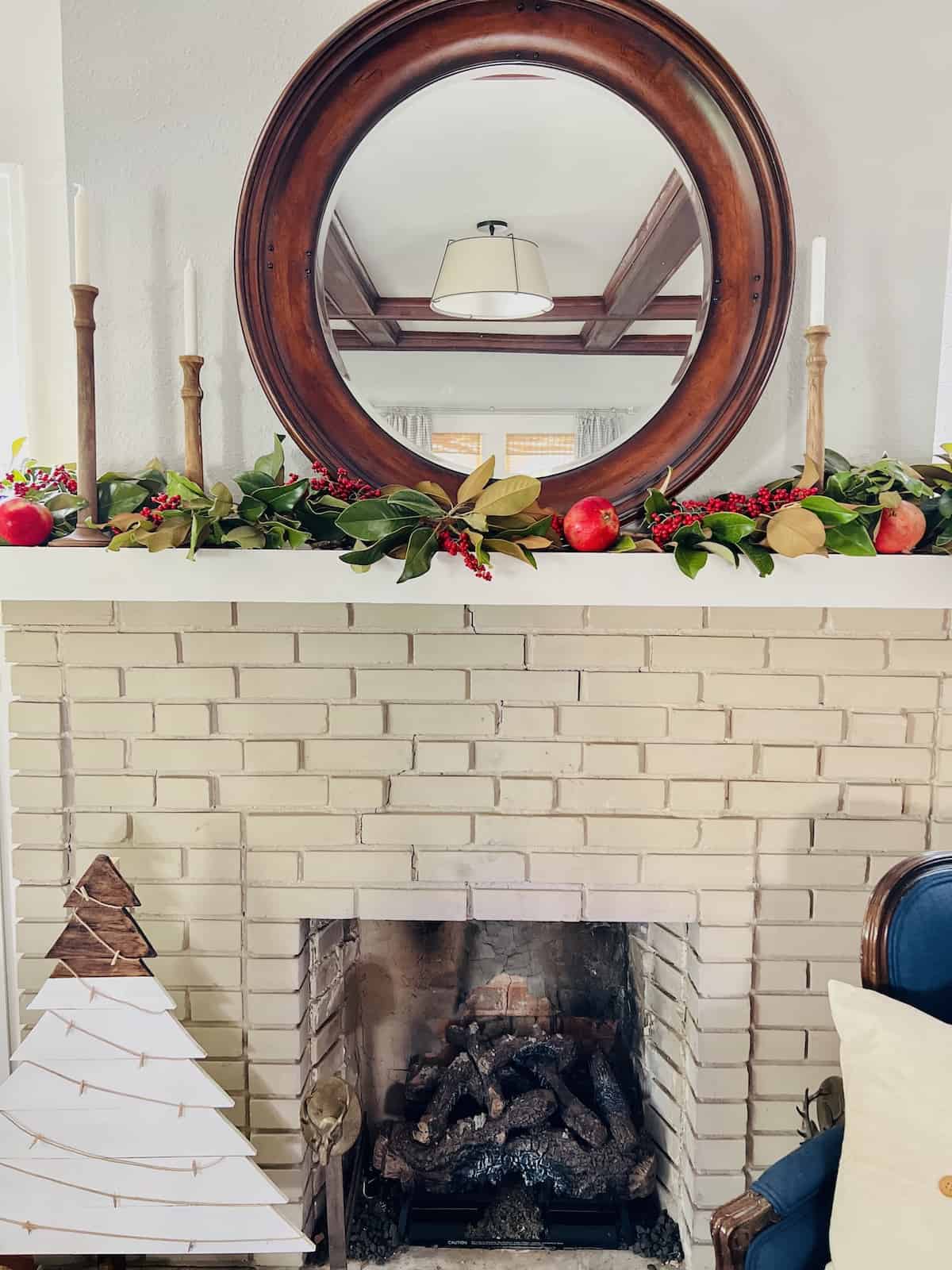 How to Store Your Garland
This garland will last for years to come since you have treated the leaves with Mod Podge. If you don't have the time to paint each lea ( truth be told I didn't finish mine) you can use acrylic spray or hairspray to preserve the leaves. Or you can clip new branches next year. It only takes a few minutes and you can compost your garland each year.
If you did preserve ALL the leaves you can store in an airtight container.
Christmas in July Blog Hop
Welcome to our Christmas In July Blog Hop. Be sure to click each link below to follow along on the hop.
The Ponds Farmhouse / Cottage on Bunker Hill / Midwest Life & Style / Cottage in the Mitten / Down Shiloh Road / Bricks N Blooms
Simply 2 Moms / Shiplap & Shells / Peacock Ridge Farm / WM Design House / Thistle Key Lane / White Arrows Home
Pasha is Home / Tater Tots and Jello / Robyn's French Nest / Chas Crazy Creations / DIY Beautify / Cloches & Lavender
The Crowned Goat / Common Ground / Life At Bella Terra / The Tattered Pew / Design Morsels / Follow the Yellow Brick Home