2 Natural DIY Marble Cleaners You Can Make and Keep
I have a lot of marble surfaces in my old house and I love them but they can be a challenge to keep clean. My home came with gorgeous marble countertops as well as marble flooring and cleaning marble requires special care.
Many general cleaning products are not safe for marble because they are abrasive cleaners or contain acidic substances. Because marble is a very porous stone these types of cleaners can cause etch marks in the stone. The same holds true for granite countertops or any natural stone countertops,   In addition, acidic liquids like vinegar or lemon juice can damage marble counters over time. 
This sent me on a search for the right way to clean my marble surfaces.  There are commercial products available for cleaning natural stone surfaces like marble and granite, but I found making my own diy marble cleaner is an inexpensive and simple solution.
I keep two different marble cleaners on hand, one for my countertops and one for my floors.
Type 1: Marble Countertops
For my everyday countertop cleaning solution I use a combination of water, hydrogen peroxide and Castile soap (or any mild dish soap of your choice).  
I keep a spray bottle with the mixture ready to go with  4 parts water (4 cups), 1 part hydrogen peroxide, 1 tablespoon Castile soap.  You can use this to spray the entire surface then wipe the excess water with a clean cloth.  I use these glass refillable spray bottles.
I use affiliate links so I can afford to keep doing this.  Hope it saves you time. See my disclosure policy.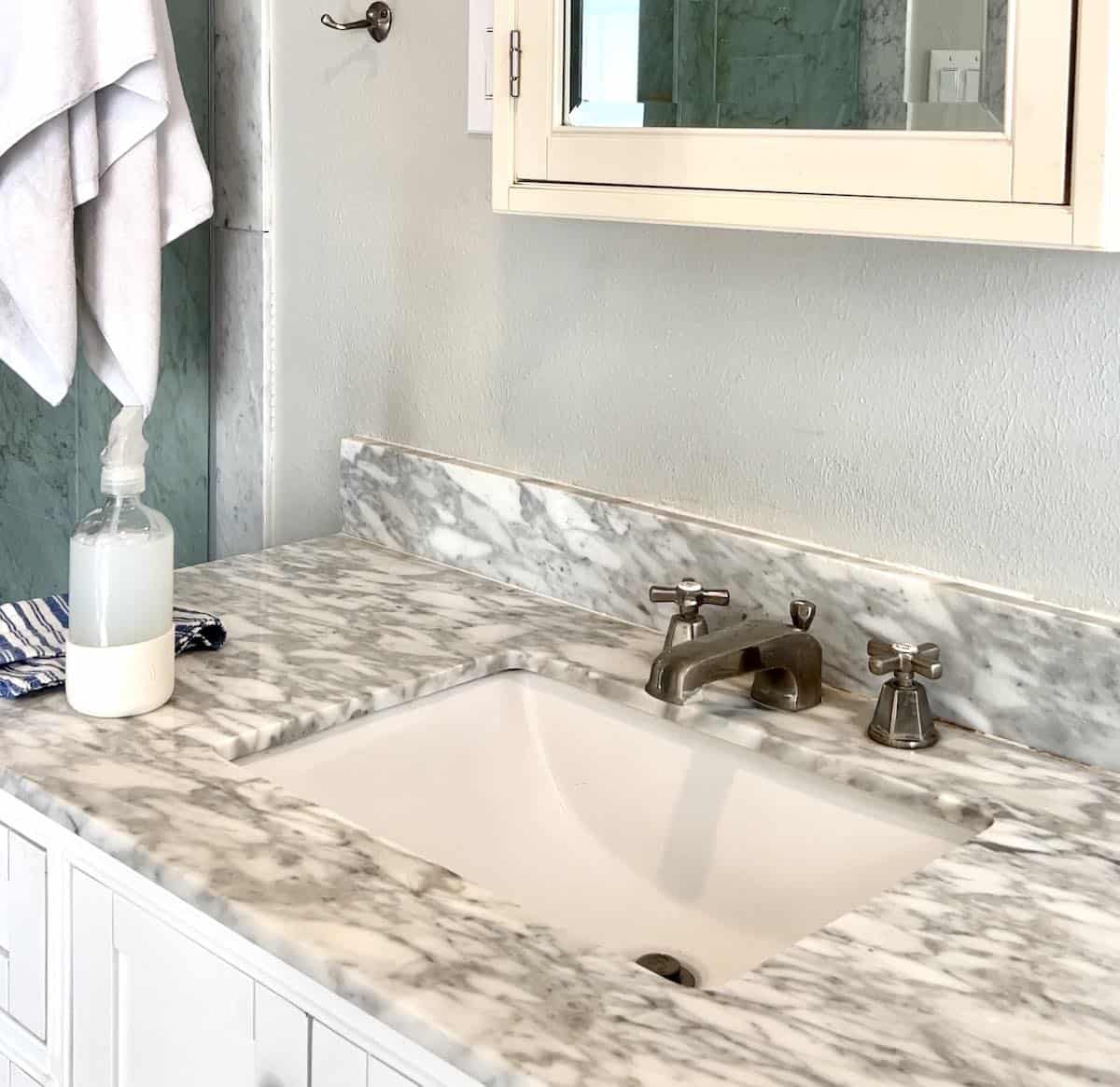 Because dish soap has a neutral ph it doesn't cause etching of the marble.  I add hydrogen peroxide to tackle basic food stains.  
Type 2: Marble Floors
For my marble floor tile, I have a different approach. For general cleaning, I first vacuum the floors then use a soft mop with a very diluted mixture of water and Castile soap (or any gentle dish soap that does not contain abrasives or lemon juice). This same solution works on shower walls.
If the stain is recent it can sometimes be taken care of with just dish soap and water. I add 1 tsp of dish soap to a gallon of water, apply it to the stain and let it sit for a few minutes.
If you have rust stains or mineral deposits, you'll need to make a poultice, which I talk about here.  
Marble Cleaning Tips
A few other tips on maintaining and cleaning marble surfaces:
I discovered that if marble is properly sealed it is naturally bacteria-resistant so disinfecting is not always necessary. If you find you need to disinfect (perhaps raw chicken was placed on your marble kitchen countertops) you can spray with a little isopropyl alcohol or antibacterial soap and wipe it clean straight away with clean water and a soft cloth.
If you have light-colored marble you can use a cleaner with a bit of hydrogen peroxide.  If you have dark marble, you can use a small amount of acetone.
If you liked this, you might be interested in Soapstone countertop care.