I know you might be thinking, why am I writing about insulation? My parents live in a duplex that has NO insulation. Many older homes have no or minimal insulation or old insulation that may not be doing the job. They are pretty hard of hearing so the task of figuring out how to get the attic insulated is easier for me to handle.
Why would this matter to you? Insulation can make your home feel more cozy and comfortable, whether you live in a hot climate like we do or a cold climate, and that's what this blog is about. I want to help you make your home or apartment feel good when you walk in the door.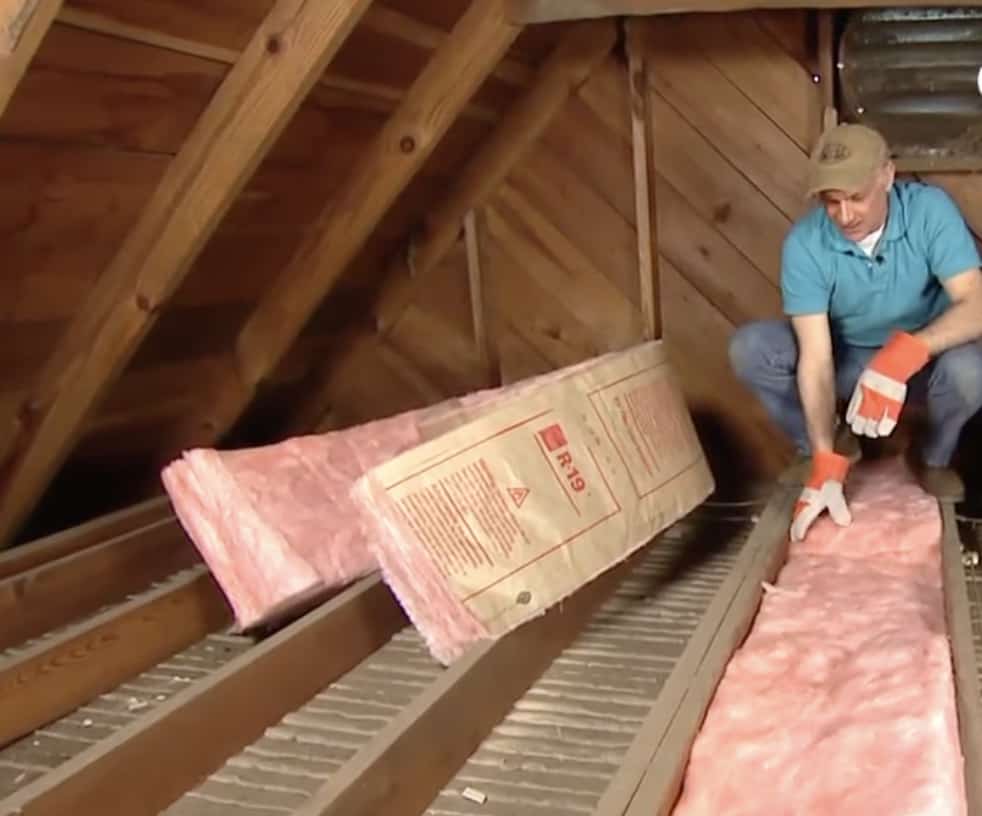 While this topic isn't glamorous, it's important. When I started to search for the best attic insulation I found total garbage, mostly advertisements for installers. I decided to research the best types of attic insulation and get quotes and I thought it might be something that you might appreciate or find useful.
Types of Attic Insulation
If you are trying to insulate your home you will find MANY sellers who want to convince you that the type of insulation they sell is the only one you should consider.
First, it's important to understand the differences in insulation types. There is Batt/Rolled blanket insulation, blown-in insulation and spray foam insulation.
Batt or Rolled Insulation
The Batt or rolled insulation is the pink stuff that is rolled up in sheets. The benefits of these pink sheets is that they are fairly easy to install in an unfinished attic if you are comfortable crawling around your attic and it is inexpensive. If your attic is difficult to crawl around because there is not enough decking, it can be dangerous.
This post contains some affiliate links for your convenience. Click here to read my full disclosure policy.
These fiberglass batts are available at Home Depot and Lowes. Home Depot blanket or batt insulation sells for $30 and covers 31 square feet. It's 15 inches deep and has an R-value of 30, more information on the R-value below.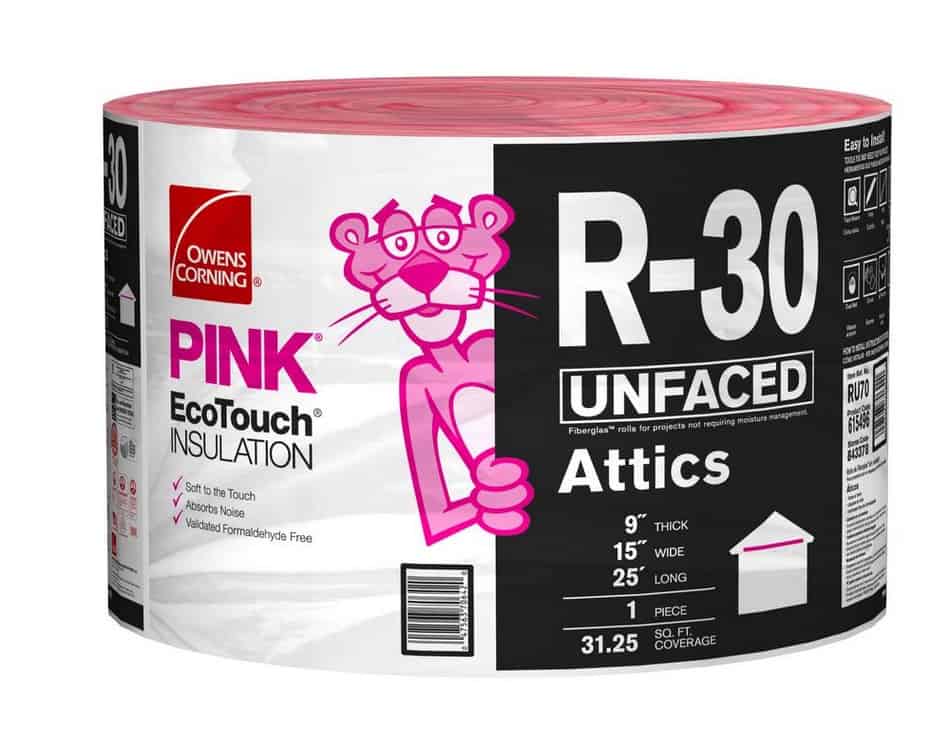 Blow-In Insulation
Blow in insulation is made of cellulose or fiberglass (which is better for attics). Blown-in Fiberglass insulation has an R-Value of 2.2-2.7 per inch (remember we are trying to get to 38 total R Value). Cellulose blow in insulation has an R-Value of 3.2-3.8 per inch. Blown-in Cellulose is heavier and not as well suited to attics as it is to walls. It can compress and get to be too heavy for your attic floor.
You can also purchase blow in insulation at Home Depot and Lowes and even rent a machine to blow it in. However, the average cost to buy it and get it blown is is $0.65-$0.90 per square foot or $1365 to $1890 for a 2100 square foot house. The benefits are that it is easier to get into tight spaces so you can get better coverage. The disadvantage is that it has a loose fill and can be messy if you are in and out of your attic a lot.
If you want to DIY the blow in insulation, you can buy it at Home Depot and rent the machine to blow it into your attic for free if you buy at least 20 bags. Each bag is 30 pounds and they come in sets of 36 bags for around $500.
One factor to consider before you choose this option is that some insulation contains formaldehyde. If you are concerned about indoor air quality, there are brands that are Formaldehyde-free like Certainteed's Insulsafe.
Spray Foam Insulation
Spray foam attic insulation is the best type of attic insulation of the three because it provides the best air seal so you have less energy loss. The foam hardens once it is sprayed in instead of being loose. It is the best at sealing off all of the nooks and crannies in your crawl spaces.
There are two kinds of spray foam insulation, open-cell foam and closed-cell foam. The closed cell spray in insulation is stiff and hard to penetrate. The disadvantage is that it is the most expensive type of insulation. The open cell is softer, but still a foam surface vs the loose material blow in insulation. This type of insulation becomes a rigid surface once it's in place.
What is R-Value and What do I need in my attic?
R-Value is the measurment used to show the effectiveness of insulation. A higher R-Value means the it insulates better. The R-Value you need depends on the climate in your area. According to the government's Energy Star report, the recommended R-Value for your attic is 38 with 10-14 inches of insulation.
Proper attic insulation can save you between 10% and 50% on your electric bill in the winter, according to the Washington Post.
FORMALDEHYDE FREE INSULATION
Formaldehyde is used as a binder in some fiberglass insulation products. There can be two types of formaldehyde used in insulation, UF (Urea) or PF (Phenol). UF causes the greatest health concern. Be sure to ask your installer and check the brand of insulation you choose to make sure it doesn't contain UF.
You can get more details on the impact on your air quality depending on the type of insulation you choose here.
Finding an Insulation Installer
Once I started looking into insulation, installers started coming out the woodwork. Angies List used to be a great place to vet people like this, but since they combined with HomeAdvisor I found the information WAY LESS helpful. My recent experience is that Angie's List/HomeAdvisor is just in the business of selling leads and not showing you all of the pros in the area you are looking for. You can only see the ones that pay for the lead.
I digress, but I don't use Angie's list any more. The best way to find a reputable installer is by word of mouth. If you don't know anyone who has installed insulation recently use google. You can read reviews and ask the installer if you can get a referral to talk to.
Here's how I found my installer. 1.) I searched google for "attic insulation Dallas" which brought up installers with google ratings. 2.) I searched google for "attic insulation Dallas formaldehyde free". This did not bring up a list of companies, but I was able to see if the installers with good reviews from my first list showed up here. 3.) I read reviews and called two installers for quotes.
Radiant Barrier
You will find many insulation installers who try to convince you to install a "radiant barrier" in your attic. There is typically some sales pitch about how much this will reduce your utility bill. It is supposed to "reflect heat" although I'm not sure how this is happening when it's on the inside.
This is one area where I have personal experience. We bought into this concept fully in our last house. I can tell you that it had zero impact on our energy bills. It looks like it would work, but it didn't. It is supposed to work better in hot climates, but don't believe it.
Is Attic Insulation worth the investment?
You might be wondering if the cost of what you will spend on insulating your attic is worth the investment in terms of energy savings and heating bills. The answer is that it depends. This varies based on where you live and how extreme the weather is. Here's a cost vs. value guide to help you determine if it's worth it based on where you live.
Conclusion
We installed a blown in cellulose insulation material that was formaldehyde-free. Of the three choices it was the most affordable in an attic space that is hard to move around in. We did not DIY the insulation. As for what kind of difference it will make, I will have to let you know in 12 months.
Before you go, you might be interested in tub resurfacing, is it worth the cost? or Duct cleaning, is it worth it?or Avoid these mistakes if you are installing rain gutters.