Affordable Countertop Ideas
Updated for 2023
Do you have a dingy old countertop that you need to replace? Replacing your countertop can be expensive enough that you may let your old one hang around for too long. Let me say up front, this is not a DIY post. I have no grand ideas about trying to replace countertops on my own.
We have an old house that my husband owned before we were married. We held onto it as a rental and it needs some serious updating. The counters are old Formica. Everything in the kitchen is old, but we can't afford new cabinets or appliances so we were looking for inexpensive kitchen countertop ideas.
If you are on the fence about updating your countertops, read more to see what the real costs are and which type of countertop will be the best for your kitchen. This post will include a lot of numbers to help you to get an idea of the actual cost to replace a countertop in your own kitchen based on actual quotes. I hope to give you some inexpensive countertop options to consider.
Measuring your countertop
Before you go countertop shopping the first step is to measure your countertop. This will give you an idea of how many square feet of countertop you need to replace.
The best way to measure your countertop is to divide it up into sections. Most kitchen cabinets are 24 inches deep. If you don't have an island that is wider than this, it will be less expensive to replace your counters because islands usually require a larger block of counter (which means two blocks engineered together).
Draw out your counters on a piece of paper and measure each side. Draw the space for the stove/oven, refrigerator and sink. In order to determine how much a countertop will cost you, the installer (remember this is not a DIY post) will need to know which sides have a finished edge. Your drawing doesn't have to be to scale. Here's my rough sketch, which was enough for Home Depot and Lowes to give me a quote.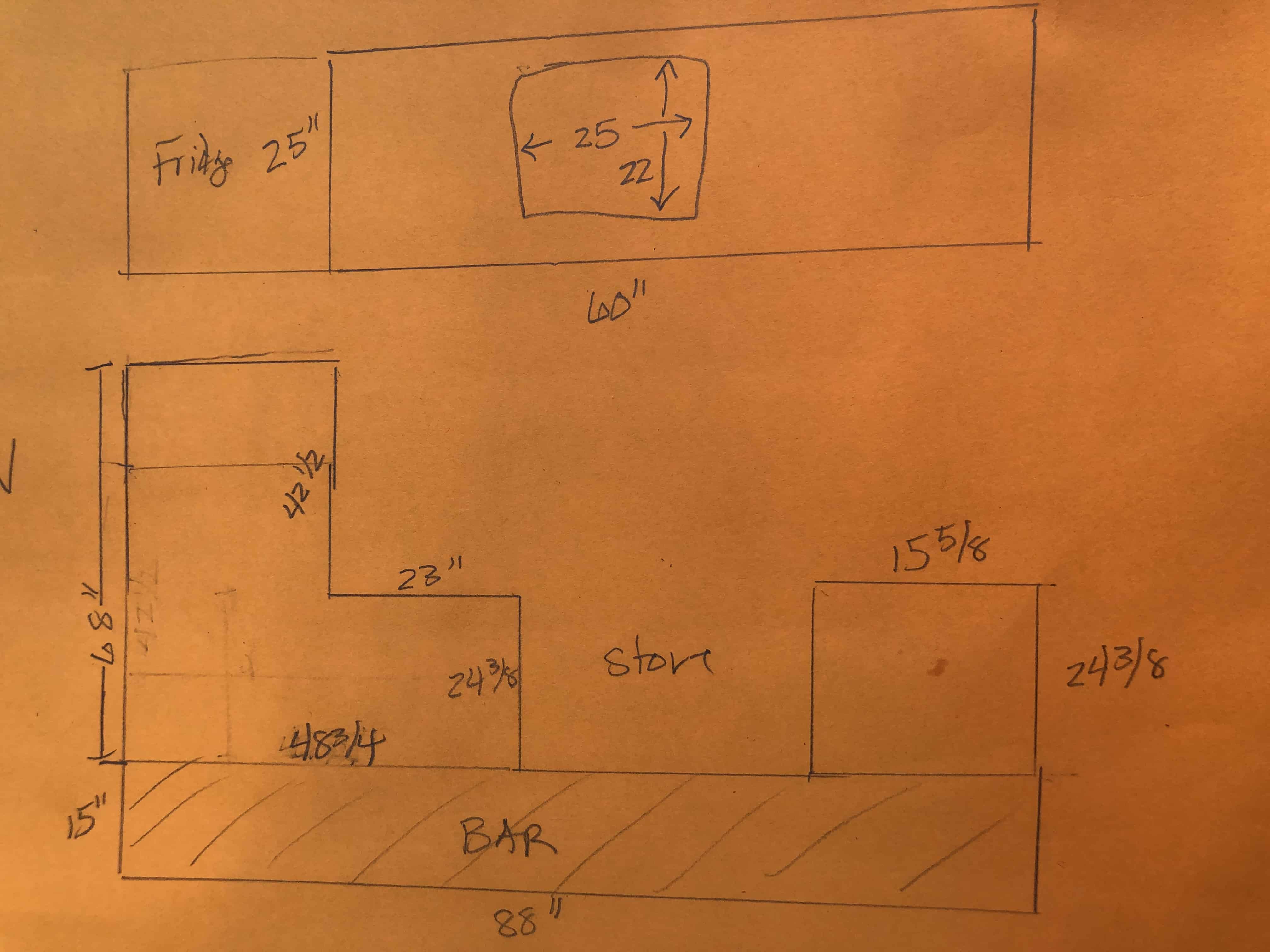 When I did the math (length x width) for each segment of my counters I came up without about 38 square feet of countertops.
Countertop Material Options
When you start countertop shopping you will see these types of options: quartz, granite, solid surface (which means some type of partially man made stone), laminate and butcher block. I'm not including concrete or tile because these are two options I didn't want to consider. In my opinion tile looks even more outdated than what I have and concrete is too modern for this home.
The prices for each type of material are graded A to D. For example, there are some quartz countertops that are $52 per square foot and some that are $84 per square foot. I'll give you the price ranges for each by square foot as of 2019 and what it would cost for a 38 square foot counter kitchen.
Quartz Countertops
These are the most durable countertops and also the most expensive. Quartz is a mixture of crushed stone and plastic; they are often called engineered stone. Quartz countertops don't have to be sealed like Granite. They are very durable and stain resistant. You can scorch them because they contain some plastic, but they can be repaired by sanding them down if the burn is not too deep.
In 2023, at Home Depot quartz prices range from $50 per square foot to $128. If you do the math and your kitchen has roughly 38 square feet of counter space that would be $1,900 for the lowest priced quartz and $4,864 for the highest priced quartz. Prices are very similar at Lowes.
This is an example of white quartz countertops.
Granite Countertops
Granite is a natural material. It can withstand hot pans, but it requires more maintenance to keep it sealed than quartz. It should be resealed every one to two years. Because it is a natural surface it is more porous and acidic liquids like lemon and vinegar can cause discoloration. It is also very durable. One of the nicest things about a natural stone is that no two pieces will look identical.
In 2019 at Home Depot granite prices range from $42 square foot to $83. For a 38 square foot space the cost would be $1,596 to $3,154.
solid surface countertops
Solid surface counter tops are a less expensive version of quartz with similar look. Home Depot carries two brands, Corian® and Wilsonart® Solid Surface. Corian® is made by Dupont. It's very similar looking to quartz, because it is man-made, but it has a higher percentage of plastic (33%). The price per square foot starts at $37 and goes up to $77. Wilsonart Solid Surface has the same price range.
The solid surface brand at Lowes is made by LG called Hi-MACS®. The price range per square foot is $35 to $55. For a 38 square foot space the cost would be $1406 to $2090.
Laminate Countertops
Formica or Wilsonart are very inexpensive options and they have come a long way. Even if you have old Formica it can make a drastic improvement replacing it with new Formica. I walked into a Lowes and was fooled at a distance by the Formica marble. It was beautiful. The disadvantage is that it can get burned, but it's very hard to stain.
In 2019 at Home Depot laminate prices range from $23 square foot to $37. For a 38 square foot space the cost would be $874 to $1,406.
I had laminate countertops in my work kitchen and they held up great and looked great, but I didn't have to worry about people putting hot pans on the counter.
IKEA COUNTERTOP OPTIONS
Ikea makes custom countertops. They have quartz starting at $45 per square foot, but it's only 3/4 inch thick vs the other choices which are 1 1/4 inch thick. The prices go up to $77 per square foot.
Ikea also has butcher block countertops that you can install. They are approximately $200 for 98 inches by 25 5/8 inches or $150 for 74 inches by 25 5/8. Here's an excellent example of a DIY installation of Ikea butcher block.
Conclusion
If you are choosing a new countertop, there is no shortage of affordable countertop options. We decided to go with a solid surface because it has the combination of durability and a lower price than granite or quartz. Stay tuned to see before and after photos of our kitchen countertop remodel and for review of our install experience with Home Depot.