Best Pet Friendly Sofas on a Budget
I am always on the lookout for pet friendly upholstered furniture. I have a dog and 2 cats that spend more time on the couch than I do so this is a top priority.
When I was looking for a new sofa I discovered there are two ways to go when it comes to pet friendly fabric. You can go with a sofa that has removable slip covers that can be washed or you can choose an upholstered piece that has pet friendly fabric.
Buying a sofa is a big investment and hopefully it's something you will have for a while. Here are my favorites, including the one I own (below) and the one my sister has (with her 8 dogs).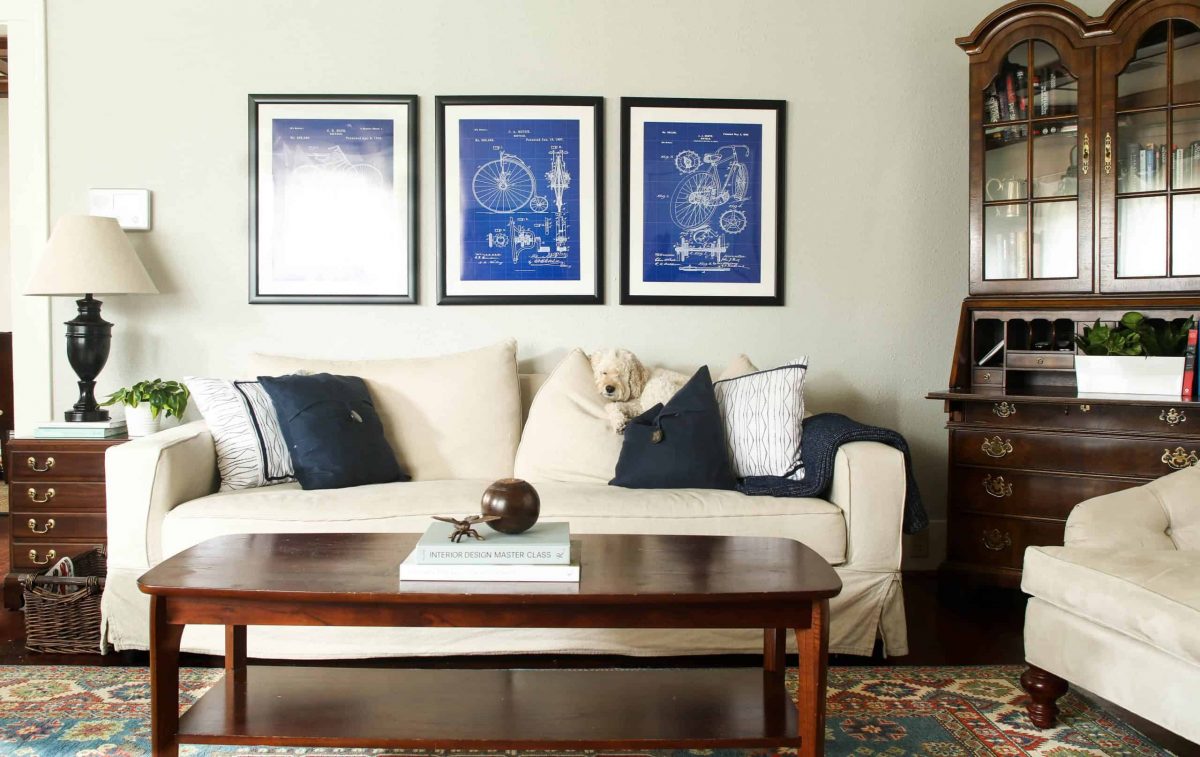 It's important to get fabric that's the same color as your pet. 🤣
Pet friendly fabrics
Fabrics that will stand up to pets need to be durable and if possible stain resistant. Fabric with a nice tight weave will be more resistant to snags and are easier to clean. Popular options that fit this bill include:
Leather or faux-leather
Velvet – Velvet brings to mind luxury, but when it comes to your pets this is hard to beat for durability. It is tightly woven and has a low pile so it stands up to wear and tear. In addition the tight weave and short fibers keep messes from seeping in.
Microfiber – This is a synthetic fabric known to resist stains. The tight weave prevents messes from sinking in. I can speak from experience that this fabric is easy to clean pet messes because I have two microfiber chairs.
Canvas – Canvas is tightly woven, durable and easy to clean with soap and water.
Denim – This is a tried and true fabric that stands up to plenty of wear and tear.
Outdoor Fabric – Outdoor fabric is designed to endure the elements, so it should be no match or your pets.
Pet Friendly Upholstered Sofas
Inside Weather Sofas and Sectionals. Inside Weather sofas and sectionals come in a wide range of sizes and the modular design allows for several configurations. All their furniture is made in California. They are not slipcovered pieces but the upholstery is made of durable performance fabric that is stain resistant, liquid repellent and pet friendly. You can customize the frame color and they have a multitude of fabrics to choose from, I love this green color.
Adams Sofa from Castelry. This sofa comes in 72″ and 84″. You can customize the legs and choose from 4 fabrics. The fabric is Polyester and Acrylic and though you can remove the seat and cushion covers, there is also fabric on the frame of the couch which is not removable. I really like the legs and the option for a sectional.
Allform Sofas and Loveseats. This sofa comes in a loveseat, 3 seat or 4 seat sofa. You can customize the legs and choose from 4 different color options. The fabric is Polyester and Acrylic and though you can remove the seat cushions and covers, there is also fabric on the frame of the couch which is not removable. The sofa frame tends to get less dirty, since your pets can't sit directly on it most of the time. It has a very mid-century modern look to it.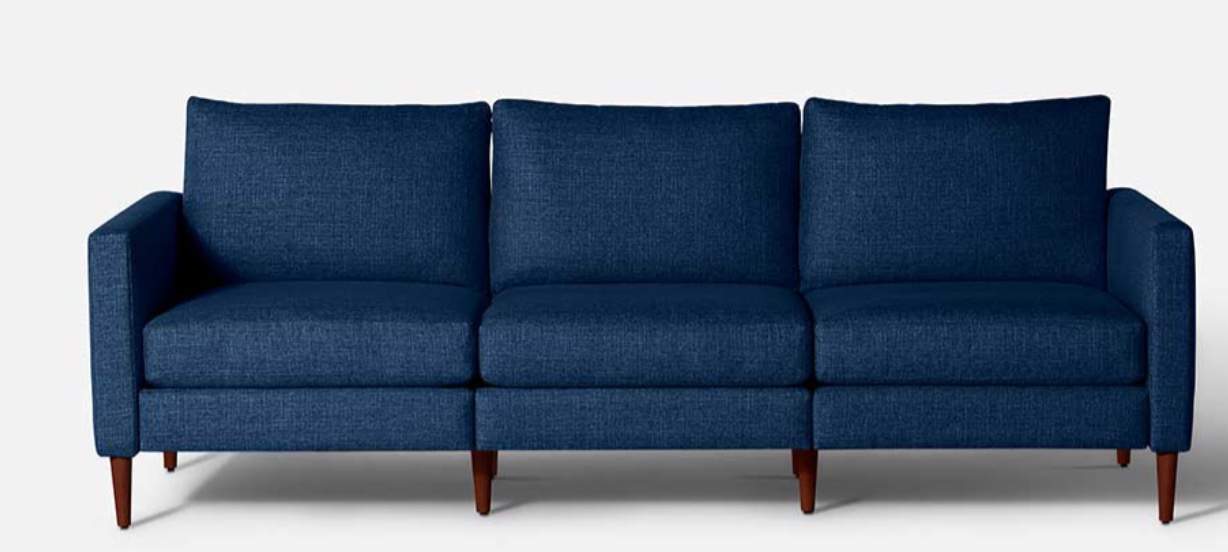 Block Nomad Sofa Sectional from Burrow – This line has a loveseat, sofa and sectional and all are highly customizable with a very modern look. The 5 fabric colors are all a tight olefin fiber weave that is stain and scratch resistant. You can also choose from 6 leg finishes (3 wood and 3 metal) as well as 3 armrest heights.
Newport Sofa from West Elm – This sofa comes in a variety of sizes, ranging in length from 60-108″ and has an extra deep seat. It comes in a wide variety of colors with a choice of flatweave, velvet or textured fabric. You can also choose from 3 leg styles as well as boxed or toss back cushions. All of the exposed wood on this couch gives it a very unique look.
Best Pet Friendly Slipcovered Sofas
I'm a big fan of slip covers vs upholstery, but I like slip covers that LOOK like upholstery. They can't be loose fitting. They need to be very tight. Learning how to wash them is an important part of whether they last and work for you.
Pottery Barn Comfort square Slip covered collection – In my humble opinion this is one of the best slipcovered sofas (it happens to be the one I have in my living room). This sofa has removable slip covers made of high performance fabrics that are pet friendly and fade resistant. This collection comes in lengths from 62-97″. You have the option of customizing the seat cushions, back cushions and cushion fill and there are numerous fabric options and colors.
Uppland Sofa from Ikea – If you are looking for affordable prices, Ikea is always a good choice. The Uppland line replaced the Ektorp sofa and loveseat. The Ektorp was a legendary sofa known for it's longevity. It has several replacement slipcovers that are machine washable. The 71″ loveseat is perfect for small spaces.
Willow II Slipcovered Bench Sofa from Crate and Barrel – This sofa comes in a bench, 2 seat or 3 seat configuration in lengths of 74″, 84″ and 103″'s. There are 18 fabric options in neutral colors ranging from performance cotton canvas, plain weave and linen weave. They recommend dry cleaning their slip covers, but do give instructions for machine washing using the gentle cycle.
Kian 84″ Slipcovered Sofa from Wayfair – This is a low profile, 2 cushion sofa with down filled cushions. It is a great choice if you are looking for a sofa with a small footprint. The washable slipcover comes in 73 different colors in a variety of durable fabrics pet parents will love.
Ava Slipcovered Sofa from Grandinroad – The Ava sofa comes in 86 and 93″, both with a solid wood frame and deep seats. The removable covers are moisture repellent and designed for heavy duty wear. They come in 8 neutral colors. This one has more of a traditional slip cover feeling because the slip cover is not as tight.
Wendell 90″ Slipcovered Sofa from Birch Lane – This sofa has a bench cushion and pillow back. The durable slipcovers are available in 66 different colors and this is one of the only sofas that had replacement covers available in bright colors.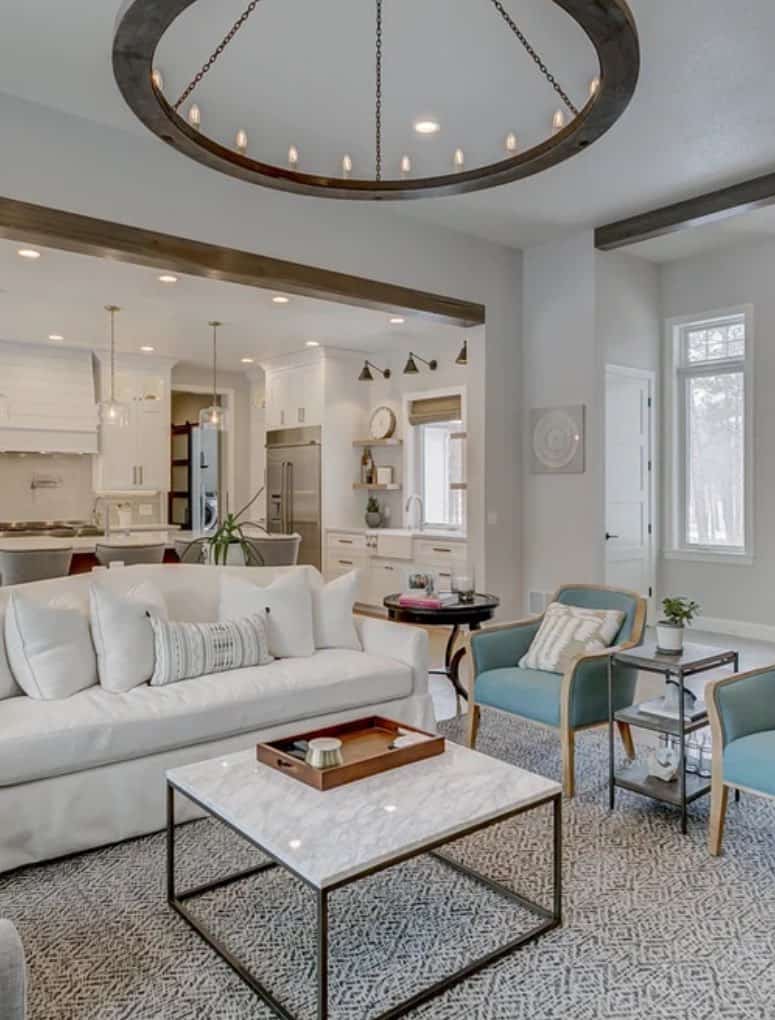 If you're looking for a sofa you should read three tips for buying a sofa and how to buy furniture online without regretting it. Or if you need a more pet friendly furniture check out this post.