How to Pick Curtains For Your New Home
Do you want to hang curtains in your new place? It sounds easy but there are many factors to consider like how wide? How Long? Where should the rod go? Should I get drapes, shades or both?
In my new house all of my curtains are leftovers from the previous owner.  They were pretty ugly (sorry if you are reading this previous owner). But we want the neighbors to be able to peering into our bedroom. 
If you have done any shopping for curtains or drapes you know they can be expensive. Here's how I decided about curtains or drapes in every room and a few of the mistakes I made that you can hopefully avoid.
Step 1 – Determine Function of Your Curtains
Curtains are a major part of every room's design.  The four main staples of decorating any room are furniture placement, lighting, rugs and curtains.  Before you start buying drapes or curtains for your new place it's worth considering these functional questions.
1.) Can I see the curtains or shade in multiple rooms at once? Can you see the drapes in your dining room while you are in the living room?
2.) Do I want the curtains and blinds to look consistent throughout the space or do I want each room to look unique?
3.) Do I want curtains/blinds to block light, filter light or just accent the window? For example, in a bedroom you might want something that blocks light while in a dining room, you might want light filtering curtains/shades.
4.) How much money can I afford to spend? If you won't live in your current space for a long time, don't spend too much.
I recommend starting with just one room.  Don't try to replace all of the curtains you have at once unless you have a big budget.  You can learn valuable lessons from the first windows you cover that will help you in the remaining rooms.
Step 2 – Choose The Style of Your Curtains
There are three style-elements to think about before you buy curtains: Fabric/Material, Hanging Method and Rod Finish.
Determine the Fabric You Want
Do you want something colorful or simple? With a pattern or solid? These are not small questions. You can start by looking at photos of windows in Pinterest and in magazines and see what draws your eye. I like curtains with a pattern, but I'm always more drawn to simpler curtains because I'm afraid I will get tired of the pattern.
You also need to consider the type of material – cotton, linen, silk, burlap and more. Most curtains are not washable, but that's why I like cotton because they can be washed. You don't want to wash them all the time but it's nice to have the option.
After reading several design books they all seem to agree that drapes aren't actually made to be closed over a window. The function of a curtain is to make the window look better and not to give you privacy. The privacy comes from blinds (to be discussed in my next post).
I knew I wanted something cotton, white and cheap. After reading lot of blog posts about curtains I decided to go for the Ikea Lenda curtains.
Hanging Method
You will need to determine how you want your curtain to hang. The four main types of curtains are rod pocket, grommet, tab or ring (which can accommodate many different types of curtains).
The rod pocket curtains are easy to make yourself without even having a sewing machine if you have hem tape. They are easy to hang but the issue is they are hard to open and shut. They work best in a place where you don't plan to move the drapes. I have rod pocket curtains behind my bed because the drapes are always closed.
Grommet curtains are similar to rod pockets but easier to move open and shut because there is a metal ring inside the curtain fabric. There are many curtains made in this style at places like Target and Ikea. I think these have a modern look, clean look.
Tab top curtains are easy to move open and shut and they can go over any size rod. I purchased tab top curtains I trimmed them off and hung with rings (see below). These tend to look more casual and sometimes country.
Ring curtains (not the official name) hang from rings that either clip onto the curtain or in some cases stick into the curtain with a large pin. In many cases they are pleated, but mine are not. I like these curtains because they are very easy to open and shut. They do require more hardware because you have to buy rings plus a rod.
Cheat Tip – When you are trying to adjust the length of your curtain, it is possible to fold the top over and clip them to shorten the length without tape or sewing. I have mine folded over about 2 inches at the top.
Determine the Length of Your Curtain
Unless you have a radiator in the way it is best to have your curtains touch the floor or pool slightly.
If you purchase curtains that are dry clean only, which many curtains are, the length will not change. If you purchase curtains that are washable it is very important to wash them prior to hanging. They normally shrink the most the first time they are washed. I washed mine in hot before hanging them the first time to get all of the shrinking behind me. If I have to take them down to wash them I will use cold.
If you happen to have drapes that are too short, there is a trick you can try. If they are rod pocket drapes you can purchase the drapery rings and clip the top of the rod pocket. This is not the best option, but it can work if you are looking for fast fix. I added about 5 inches to my too short drapes.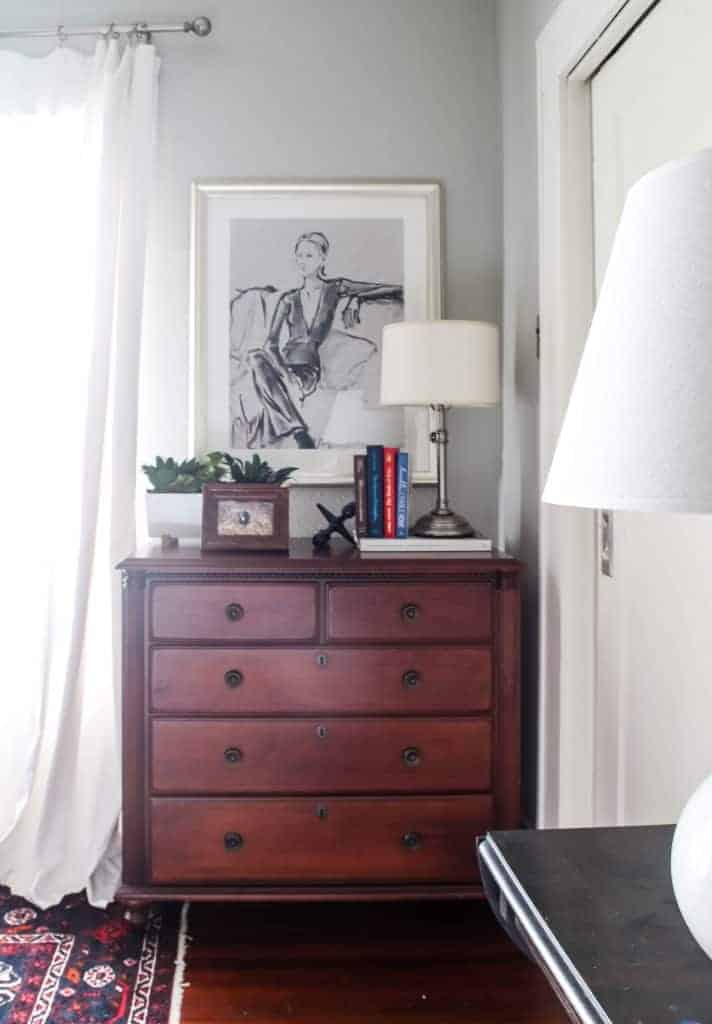 Decide The Finish For Your Rod
There are painted, wood and metal rods. Most of the hardware in my house is satin nickel or brushed satin so I wanted to keep the rods consistent. It depends what you like, but look around your room and see what would look good with what is in your room.
The previous owner of my house had satin rods but they had these very ornate curly finials (ends), which I really hate. Even though I'm cheap, I had to replace them.
Get The Right Sized Rod
Since the drapes are really meant to accent the window, the rod has to be long enough to extend 3-12 inches beyond the outside of the window. I found the best selection of rods on Amazon and prices were as low as Home Depot and Target. I bought these rods on Amazon because I had many windows to cover in a small house so I wanted them to look the same.
The screws/hardware that came with the rods was awful. I stripped two sets of screws trying to get them in the wall. I recommend purchasing your own hardware instead of using the screws that are inclosed.
Step 3 Where to Buy Curtains
I like to go to a few web sites to get inspiration even though I can't afford to purchase drapes here. For me those sites are Potterybarn.com,  Ballarddesigns.com and Etsy.com (prices vary greatly).  Drapes on these sites can be more than $100 per panel.  If this is not your budget, you can still find great curtains and shades.
With that inspiration, I then try searching for the closest look-alike on Ikea, Target, Wayfair and Bed Bath and Beyond.  Wayfair is the easiest to filter because you can search easily by color, length, light filtration, hanging method, material and more.  
Step 4 – How to Hang Curtains
1.) Hang the Rods in the Right Place – This may sound stupid, but after spending three hours hanging one rod in the wrong place, I decided it deserved a separate step.
I kept reading in multiple place that you should hang your curtains high and wide. I did that but as you can see in the photo, there is such a thing as too high. After hanging mine SUPER HIGH I learned it should only be 4-6 inches above your window frame.
Use the right screws. I've learned that screws are not all created equal. You will read that you should use wood screws only if you are screwing into wood. If you are like me, you don't know what you are screwing into. I have been burned by using the screws that are included because they are the cheapest (easiest to strip) screws.
I used a drill to get a hole in the drywall and then screwed in wood screws. My curtains are not particularly heavy so hammering in the dry wall plastic things seemed like overkill to me.
2.) Adjust the length of your curtain if necessary. There are several ways to do this. You can sew them, but let's be real, who has time to do that. You can also use hem tape, regular tape (which I tried and no one noticed) or glue. I also folded the top of my curtains over as I hung them on the rings.
3.) Hang them and move on to blinds…Blinds or shades can be a whole different ball game. Read this post about where to find affordable shades if that's what you want.
Have you tried hanging curtains for the first time? What lessons did you learn?